Last Friday, Janie and Betsy gave their best guesses as to which books the ALA would delight to honor in their annual Youth Media Awards.  Both were up early (especially Betsy!) to hear the announcements live from Atlanta.  Of course, at least half of the honored books we hadn't read because there are only so many hours in a day.  But, we turned out to be more on the ball than usual this year—yay us!
We won't give you the blow-by-blow, but a general scope of the announcements with links to our reviews and a bit of Facebook chatter.
The announcements always start with some of the less-prestigious awards, such as the Schneider Family for books about disabilities.  The winner sounds interesting: Six Dots: a Story of Young Louis Braille.
Betsy: I have six dots on hold at the library now 🙂
On to the Stonewall award, given to books that depict the LGBT experience.  A surprise here: double winner.  The top honor went to If I Was Your Girl (we'll skip that one) and . . . .Rick Riordan's latest, The Hammer of Thor.  Our Alysia reviewed it; nailed it.
Janie: That should warn off some parents.
B: Yes!
Next, the Coretta Scott King award, for books by and/or about African Americans.  There are several categories for this one, including best illustrations, best text, and New Talent (awarded to a debut author).  Best illustrated CSK medal goes to Radiant Child: the Story of Young Artist Jean-Michel Basquiat.  We're more familiar with the honor list in this category.
B: YEA! FREEDOM ON CONGO SQUARE!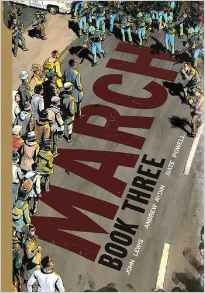 B: I have the Pinkney title [In Plain Sight] on reserve
Meaning, we'll review In Plain Sight later if it's good.  The CSK best author award goes to March Book Three, by John Lewis and Andrew Aydin.  This is a graphic nonfiction title about the Civil Rights movement and Mr. Lewis' experiences in it (which we haven't read yet but it's on reserve at the library).  We predicted a strong showing for March, maybe even in the Newbery or Caldecott categories.  The CSK was only the beginning . . .
The Odyssey Award for audio productions gave an honor nod to one of our favorite books of the year, Ghost.  That's probably a fun book to listen to—make a note for your next road trip with the kids!
The William Morris award goes to an outstanding debut author of Young-Adult fiction.  Janie has read one of the honor books:
J: I liked The Smell of Other People's Houses, except for the title.
We'll try to get around to reviewing The Smell.  The Wm. Morris winner is Jeff Zentner for The Serpent King, about a teen boy trying to distinguish himself from his ultra-fundie Christian snake-handling father, with the help of a couple of outsider friends.
B: Not familiar with Serpent King
J: It has its strong points, but I thought it was clichéd.
Now for the YALSA, giving for outstanding YA nonfiction.  Some of the honor titles sound interesting.  Betsy has read Samurai Rising, a graphic-novel biography, and gives it high marks (but no review yet).  The top winner is . .
B: March is getting major love.  Should we review/discuss it?
Yes, we should.  Janie thought she had it on her library reserve list, but a quick trip to the website didn't show it.  She rectified that oversight immediately: March Book Three is in our sights and will be on our page as soon as we can get to it..
J: March will get AT LEAST two more awards.  (I predict)  Slap at Trump.  You watch.
(As mentioned last Friday, March Book Three seemed destined for extra ALA attention because of the Twitter battle between Donald Trump and Rep. John Lewis a couple of weeks ago.  Let's see how the prediction bears out . . .)
Now the Michael Prinz Award for YA fiction.  There are always a lot of problematic titles in the list because YA famously tackles controversial subjects in often-profane terms.  Janie is eager to look at Scythe, by Neal Schusterman, and was encouraged by the inclusion of The Passion of Dolssa on the honor list.  But the gold medal goes to–
B: You are so right about March!
The Pura Belpre Award honors a Latino writer and illustrator.  Best illustrator this year is Raul Gonzalez for Lowriders to the Center of the Earth, a graphic fantasy novel with references to Aztec mythology.
B: Lowriders sounds odd.
J: VERY weird.  I checked out the first Lowriders book; didn't appeal to me.
The Bupre author is Juana Medina for Juana & Lucas.
B: I've been wanting to read that.  [quick trip to library website]  Juana & Lucas is on hold for me.
The Robert F. Sibert Informational Book Award is for middle-grade nonfiction.  It was good to see We Will Not Be Silent on the honor list—the story of college-age Nazi resistors in WWII Germany who were motivated by their Christian convictions.  One title we both liked (and predicted) was passed over:
B: AAGGHH!  No love for Some Writer.
J: That's surprising.  I was pretty sure about that one . . .
The winner?  March Book Three.  100% of Janie's earlier prediction about it winning AT LEAST two more awards.  Which makes us wonder:
B: Will March win a Caldecott AND a Newbery, do you think?
J: I was just about to ask you that!  It would be this year's big "surprise" announcement.
The Theodore Seuss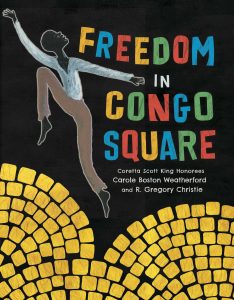 Geisel Award goes to the most distinguished beginning reader book.  Some of these sound like lots of fun . . . but we haven't reviewed them yet.  We'll get right on that.
Now we're getting into the BIG TIME awards, namely Caldecott & Newbery.  Newbery gets pride of last place; so on to the Randolph Caldecott award, given for excellence in illustration. We're familiar with a couple of the honor titles:
B: freedom in congo square!!
B: They All Saw a Cat is good.  Megan has read that one I know.
The Caldecott Winner is Radiant Child.  We make a quick note to look it up at our respective local libraries.  The tension in the room grows as we gear up for the Newberys.  Three honor books are announced:
Freedom over Me: Eleven Slaves, Their Lives and Dreams Brought to Life
The Inquisitor's Tale: or, Three Magical Children and Their Holy Dog
On Janie's top five from last Friday.
Also on Janie's top five (not to brag or anything)
And finally, the winner: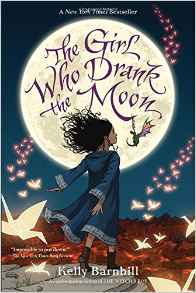 (ahem) Also on Janie's top five.
B: (you did a great job predicting this year!)
J: I was going to say, WE did well.  Our best year yet!
B: This was fun!
Yes, it was.  I hope it was a little bit fun for our readers, too.  Now on with the day . . .
Talk amongst yourselves...