This time-traveling novel requires a large suspension of belief, but rewards the reader with several moments of nail-biting suspense.
Time Traveling with a Hamster by Ross Welford.  Schwartz & Wade, 2016, 426 pages
Reading Level: Middle Grades, ages 10-12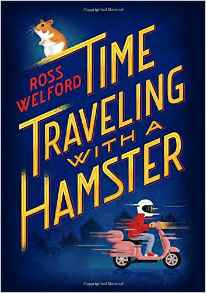 Recommended for: ages 12-15 (with cautions)
"My dad died twice: once when he was 39, and again four years later when he was twelve (he's going to die a third time as well, which seems a bit rough on him, but I can't help that)."  There's the whole plot, right up front–but it picks up from page one and moves forward so relentlessly a reader may forget to second-guess.  Al Chaudhury is one-fourth Indian, living in a suburb of England's southern coast.  His late father, Pythagorus (or Pye), was something of a computer genius whose life was cut short by complications arising from a boyhood accident.  On his twelfth birthday, Al's mum gives him a sealed letter from his dad containing detailed directions for how to go back in time to Pye's boyhood (using a laptop and a washtub) and rearrange one or two details to avoid the fateful accident.  Al decides he has to do it, but of course it's not that simple.
I don't know if the science has any validity at all, but the usual space-time continuum dilemmas intervene: the hero changes more about the past than he intended, thereby creating more dilemmas to fix.  Those expecting a comic novel on the order of Back to the Future will encounter some genuinely harrowing situations, giving rise to genuine suspense.  Clearly Pye didn't think through the implications thoroughly enough; for example, he didn't expect his widow to be remarried and living in a different house.  Great characters include Al's full-Indian grandfather Byron and his snarky-but-susceptible stepsister Carly.  Time travel always raises interesting questions, the most interesting being What is Time? (And where does the hamster come in?) Time Traveling with a Hamster is a fine example of the genre if one is willing to overlook language and worldview issues (see below).
Cautions: Several instances of profanity (such as Oh God, one Jesus), Worldview (eastern mysticism, most fully expressed by Grandfather Byron)
Overall rating: 3.75 (out of 5)
Worldview/moral value: 3.25
Artistic Value: 4.5
Support our writers and help keep Redeemed Reader ad-free.