A magic watch, a family secret, a mysterious city dictator, and one brave boy make for a great read in this clever, inventive mystery. One of our picks for our Winter Book Fair 2016!
This is a review by Pamela Palmer, a new addition to our Redeemed Reader reviewers! She is a former librarian and has many years of experience writing reviews, reading books for award committees, and recommending books to young people and their families. She also serves on the World Magazine books of the year committees alongside Megan, Janie, and Betsy. You'll see her reviews pop up occasionally from now on as she joins us in reading and recommending books for our discerning readers. Welcome to Pamela!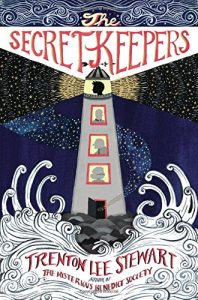 *The Secret Keepers by Trenton Lee Stewart. Little, Brown Books for Young Readers, 2016. 512 pages.
Reading Level: Middle grades, ages 10-12
Recommended for: Ages 9 and up, especially lovers of adventure with danger, magic and mystery
Reuben, age 12, lives with his hard-working, caring mother in the city of New Umbra. During summer vacation, he stumbles upon an unusual antique watch stuffed behind some brickwork in an old building. Thinking it might be worth enough to help his mother and him move to a better place, he tries to inquire about its value. Quickly events spiral out of control as agents of the shady character who runs the city pursue him ruthlessly. When Reuben discovers the secret power of the watch, he begins to understand he has stepped into a very dangerous game indeed. Clever traps, puzzles and deceivers test the moral and mental mettle of Reuben and his friends in their quest to keep the watch from the Smoke; many lives besides their own will be forfeited if they fail.
This fast-paced adventure story succeeds on many levels. We are quickly drawn into Reuben's story in his narrow escape from death in the first chapter, and then slowly realize, along with Reuben himself, the real story is just beginning. Not understanding at first that the watch is an object for which men are willing to kill, Reuben makes some careless mistakes initially. Although he learns to think more critically, he is, after all, a 12 year old boy up against some serious evil. He wisely recognizes at critical junctures that he needs the help of a few friends, both adults, and a girl his own age who insists on the full truth. There are strong family connections, faithfulness, humor, lies, and deciding the truth is better in this tale you will not be able to put down. This may be the best adventure book with integrity you read this year.
Cautions: none
Overall Rating: 5
Worldview Rating: 4.5
Artistic Rating: 5
*indicates starred review
Reading Ahead for You
Reviews and Resources Weekly in Your Inbox