The long-running Shiloh series wraps up with appropriate Christmas cheer but not too much theological clarity.
A Shiloh Christmas by Phyllis Reynolds Naylor.  Atheneum, 2015, 246 pages.
Reading Level: 10-12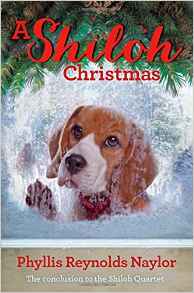 Recommended for: 10-14
Back in 1991, a West Virginia boy named Marty Preston found an abused beagle and tried to hide him from the abusive owner.  That's all fictional, of course: Phyllis Naylor's Shiloh was published that year and went on to win the 1992 Newbery medal for its heart-rending portrayal of a boy and his dog.  You may have read it yourself, or read it to the kids, or had it read to you.  The story has had great staying power not only for the deep resonance humans have with dogs (see Old Yeller, Where the Red Fern Grows, etc.) but also for the themes of faith, forgiveness, and when it might be right to do wrong.  However, when fan letters started pouring in, the author was startled at the hatred young readers expressed for the story's villain, Judd Travers.  They saw an abusive, violent drunk; Naylor saw someone who'd been mistreated himself and might be capable of redemption.  The sequels that followed, Shiloh Season (1996) and Saving Shiloh (1997) began and continued that redemption arc.
With A Shiloh Christmas, published late last year, Judd is a reformed character—though he might still slip off the wagon now and again.  There's a new "villain" in town, namely the new preacher at the local church.  Pastor Davies is of the hellfire-and-damnation mold, strict to borderline-abusive with his girls; he needs shepherding more than his flock.  Though Marty's mother has some of those judgmental tendencies, even she is alarmed at the pastor's exclusion of grace in favor of law.  Marty's dad remains a pillar of strength—hard-working, wise, compassionate.  As in the previous books, Marty has plenty of questions about God and morality, but now Judd can share his perspective: "If there's a hell, I think it's what people make for themselves while they're living.  Don't have to die to find that out."
A Shiloh Christmas ends with a nice holiday glow that doesn't quite account for why it was written. The plot recycles some previous themes and devices—Judd is still misunderstood, the locals still accuse him of things he didn't do, Marty and his family still struggle with the limits of minding their own business.  Pastor Davies sharpens the focus on religion, which has always figured in the series.  Marty decides that "my own idea of what religion should be is something that brings people together, don't separate 'em."  But Jesus does separate people, as Christmas itself shows: "a rock of stumbling, and a stone of offense."  A Shiloh Christmas can be a useful exploration of contemporary religious attitudes, but don't take it for scripture.
Cautions: Worldview (generic Christianity)
Overall rating: 3.75 (out of 5)
Worldview/moral value: 3.5
Artistic value: 4
More than 75 books for children and teens, all about islands, oceans, and more. Bonus: get a free hand-drawn reading tracker!
Reading Ahead for You
Reviews and Resources Weekly in Your Inbox