An iconic photograph comes to life in this well-crafted sophisticated, artistic picture book.
This is a review by Pamela Palmer, a new addition to our Redeemed Reader reviewers! She is a former librarian and has many years of experience writing reviews, reading books for award committees, and recommending books to young people and their families. She also serves on the World Magazine books of the year committees alongside Megan, Janie, and Betsy. You'll see her reviews pop up occasionally from now on as she joins us in reading and recommending books for our discerning readers. Welcome to Pamela!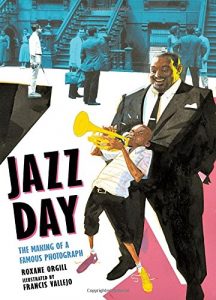 Jazz Day: the Making of a Famous Photograph by Roxane Orgill and illustrated by Francis Vallejo. Candlewick Press, 2016, 66 pages.
Reading Level: Middle grades, ages 10-12
Recommended for: Ages 8 and up, especially jazz lovers or those interested in learning about jazz; teachers; librarians
 Esquire magazine was planning an issue focusing on jazz in 1958. Art Kane, graphic designer, got a crazy idea to take a photo of as many jazz musicians as would answer his call to gather on a specified street in Harlem early on an August morning. The first portion of Jazz Day focuses on the (mostly famous) individuals who came to that photo shoot. Illustrator Francis Vallejo's vibrant illustrations in acrylic and pastel accompany Roxanne Orgill's free verse poetry. The iconic black and white photograph is on a fold-out page, followed by three more poems, including one about one of the 12 neighborhood boys who lined the sidewalk in front of the musicians. Additional background information and biographies of the musicians are provided in an introduction and notes at the end of the book. The author does an excellent job of reminding the reader of the sound of jazz music through the rhythms of her poetry, and numerous details about the musicians are included in the poems. Brimming over with life and enthusiasm, this book will be especially enjoyed by jazz lovers of any age. (Note: the text works best read aloud.)
Cautions: Lifestyle Issues (poems include mentions of elements of lifestyles contrary to biblical principles such as "husband number four," "knockin' back a whiskey," etc.)
Overall Rating: 4
Worldview Rating: 3
Artistic Rating: 5

Reading Ahead for You
Reviews and Resources Weekly in Your Inbox