A modest, well-read boy detective solves crimes great and small in these classic mysteries.
Enjoy this post from the archives! (originally published July 8, 2015)
*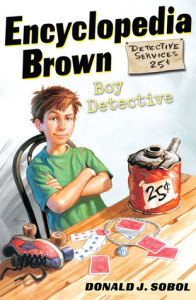 Encyclopedia Brown by Donald J. Sobol. Puffin Books, reprints 2007-present. 96 pages each.
Reading Level: Chapter books, Ages 4-8, Middle grades, Ages 8-10
Recommended For: Ages 4-8 (especially boys), Ages 8-10 (especially boys)
Robberies, forgery, swindling, blackmail, bullying, and unreliable witnesses!
Thankfully, "every crook makes one mistake," and Encyclopedia Brown is determined to be sure that no crime goes unpunished in Idaville.
Encyclopedia Brown is the modestly brilliant ten-year-old boy whose extensive reading enables him to solve cases. Sometimes he helps his father, the town chief of police, at the dinner table. More often he defends neighborhood kids who hire him in his garage detective agency. With his tough and feminine sidekick Sally to assist him, and nemesis Bugs Meany to guarantee trouble, Encyclopedia always has his hands full, but never fails to meet the challenge.
The stories are wittily written and tightly woven with just one loophole for the reader to try to solve the crime. Solutions are found in the back of these quick reads. Thankfully there are plenty of titles in this engaging classic series with broad appeal for boys and girls – and even certain adults who might enjoy a Saturday afternoon sitting on the couch, swapping volumes with their kid. This particular reviewer can't resist.
Cautions: none
Overall Rating: 4.75 out of 5  
Worldview Rating: 4.5 out of 5
Artistic Rating: 5 out of 5
Discussion Points: "So, did you figure it out?"
Categories: Mystery, chapter books, starred review, retro reads
Cover image from goodreads.
*indicates starred review
Reading Ahead for You
Reviews and Resources Weekly in Your Inbox