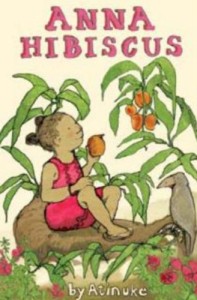 An illustrated chapter book series set in contemporary Africa that celebrates large families, its childlike protagonist, and traditional values.
Enjoy this review from the archives! Originally published June 22, 2015.
*Anna Hibiscus (series) by Atinuke. Walker Childrens and/or Kane Miller. 2010s.
Reading Level: Chapter books, ages 4-8
Recommended For: Ages 4-8, especially girls
Anna Hibiscus lives in Africa, Amazing Africa, with her African father, her Canadian mother, her twin younger brothers, and her large extended family on their family compound. Set primarily in an unnamed city in contemporary West Africa, these books present a picture of middle-upper class Africa that is rare in children's books. Anna's family members are delightfully varied in both personality and roles. Uncles, aunts, grandparents, cousins, and her immediate family are all prominent in her daily life.
Each volume in the series focuses on a significant event in Anna's life. The first volume introduces readers to Anna and her extended family in detail. Subsequent volumes follow Anna's visit to her Canadian grandmother's house, her visit to her African grandparents' home village, her growth as a young singer, and her trials with both little brothers and pets.
A particular strength of this series is the manner in which important concepts are discussed and introduced. Atinuke skillfully keeps events and emotions on a child's level without shying away from such weighty concerns as poverty. Anna's family doesn't sugar coat real life for her, but the stories are gentle in keeping with Anna's young age.
Atinuke grew up in West Africa, but now hails from Wales. A storyteller by trade, her storytelling cadence comes through clearly in these delightful chapter books. The books simply beg to be read aloud. Highly recommended for their craftsmanship, their emphasis on the importance of family and traditional values, their childlikeness, and their skillful introduction of another culture, these books are first published in the United Kingdom and often hard to find in the United States. New and used copies are available for very reasonable costs on amazon–many of them from British suppliers. They are well worth tracking down.
Note: as of this review, I have only read the first four books in the series. There are no red flags for the remaining books, but always read with discretion!
Cautions: none
Overall Rating: 5
Worldview Rating: 4.75
Artistic Rating: 5
Categories: Chapter Books,
*indicates a starred review
cover image from amazon

Please follow and like us: