In this fairy-tale retelling, Snow White is updated to the late 1920s, with the stock-market crash and the early days of the Great Depression shaping the narrative.
Snow White: a Graphic Novel by Matt Phelan.  Candlewick, 2016, 216 pages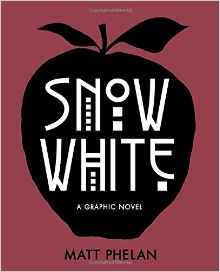 Reading Level: Middle Grades, 10-12
Recommended for: ages 10-up
Samantha White, nicknamed Snow, is the beloved daughter of a respected Wall Street financier.  When her mother died, her father was bewitched (not just in the figurative sense) by a Broadway phenomenon, star of the Zeigfield Follies. At Father's death—under ominous circumstances—Snow returns home from boarding school to receive a bountiful inheritance, which her stepmother longs to get her hands on.  Having a strange power to unsettle the wits of ordinary people, the stepmother orders a stage hand to murder the girl.  These updated details, along with Phelan's gray-wash/sepia treatment, bring out the resident darkness of the story: an insinuating ticker-tape machine stands in for the magic mirror, seven street kids for seven dwarfs, a police detective for a prince, Macy's Christmas window display for a glass coffin.  The stepmother's fate is literally shocking.
The artist uses a bare minimum of text, leaving younger readers in the dark about the historical background (at the very least, they may need to understand what a ticker-tape machine is).  But he remains true to the theme of kindness triumphing over evil.  Snow's relationship with the boys—all lost, angry, abandoned kids living by their hardened wits in abandoned buildings–is especially effective.  The boys rescue Snow because she's beautiful but refuse to tell her their names.  She takes their number early, with an understanding that's sympathetic yet savvy.  When she calls them, with a smile, her "seven brave protectors," we see their stunned faces.  Then they grin, straighten up, and don their caps with businesslike resolve.  Their response to her death—which as we know is not final—is deeply touching, making the resolution that much more rewarding.
Also by Matt Phelen: Around the World, Bluffton
Cautions: Violence, Disturbing images (evil stepmother is electrocuted by a marquee sign)
Overall value: 4.5 (out of 5)
Worldview/moral value: 4.5
Artistic value: 4.5
Please follow and like us: