The Doll People Series, by Ann Martin and Laura Godwin. Disney/Hyperion
Reading Level: Middle Grades, ages 8-10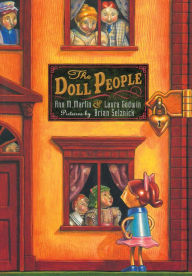 Recommended for: ages 7-12 (mostly girls)
Bottom Line: The Doll People series, rolling out in a leisurely way with four titles since 2003, offers a winning set of "living dolls" and an ideal transition from chapter books to novels.
Annabelle Doll, an heirloom from the late 19th century, lives in a similarly antique dollhouse with her family. Like them, she subscribes to the Doll Code, meaning that she'll never give her human owners any reason to suspect her secret life. Her prim world disrupts when the Funcraft Family moves in; Mom, Dad, Tiffany and Bailey are more rambunctious than the oh-so-proper Dolls because they are made of plastic instead of porcelain. But Tiffany and Annabelle will become fast friends and embark on many adventures, from running afoul of The Meanest Doll in the World (2005), to reclaiming Annabelle's long-lost baby sister (The Runaway Dolls, 2010), to accidentally embarking on an Atlantic voyage (The Doll People Set Sail, 2014).
The first three books were illustrated by Brian Selznik, whose trademark sequential-illustrations-with-lots-of-atmosphere-and-no-text occupy a run of pages before Chapter One. The new illustrator, Brett Helquist, employs similar techniques. The lavish use of pictures, along with shorter chapters, make this series a great transition for readers (mostly girls) who have outgrown their chapter books and are looking for stories that will occupy their attention a little longer. Nice themes of overcoming fear, pooling resources, and working together make for time well spent.
Also by this author and illustrator: Rain Reign, Wonderstruck, The Invention of Hugo Cabret, The Dinosaurs of Waterhouse Hawkins
Cautions: None
Overall rating: 4 (out of 5)
Worldview/moral value: 4
Artistic value: 4
Categories: Fantasy, Middle Grades, Character Qualities
More than 75 books for children and teens, all about islands, oceans, and more. Bonus: get a free hand-drawn reading tracker!
Reading Ahead for You
Reviews and Resources Weekly in Your Inbox