Rain Reign by Ann M. Martin. Feiwel & Friends, 2014. 223 pages.
Reading Level: Middle Grades, age 8-10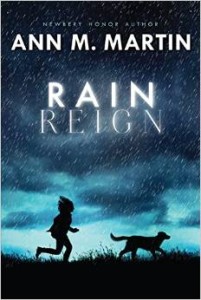 Maturity Level: 4 (ages 10-12) and up
Bottom Line: Rain Reign gives middle-grade readers a window into the mind and experience of an autistic girl as she suffers the trauma of losing her dog.
Rose (Rows) Howard is obsessed with homonyms. As a high-functioning child with autism, she's obsessed with several things, including rules and prime numbers, and these quirks can sometimes drive her father, Wesley Howard, nuts. She also shouts out at inappropriate times in school and has trouble focusing, which is why she's been assigned a teacher assistant. The teacher has been giving her pointers on how to have a conversation: I live in a house that faces northeast. (After I say that I ask the person I'm trying to have a conversation with, "And which direction does your house face?") It's not an easy life, but there are two (2 is a prime number) special graces. One is her Uncle Weldon, who is much more patient and understanding than her father, and the other is Rain (Reign), the stray Labrador her dad found in the alley behind Luck of the Irish bar and brought home for her. Rose and Rain have formed an unbreakable bond that threatens to break when a hurricane storms up the northeast coast and Rain disappears in the chaos (because Wesley Howard let her out and didn't let her back in).
This is a story that goes in directions you don't expect and works on the reader in ways she doesn't necessarily realize while reading. We sympathize with Rose and at the same time see how hard it would be to live with her. Her rigid rule-keeping extends to other people, and she can't help but point it out to everyone. That's why she eventually gets kicked off the school bus: "I just saw three cars with their wipers on and their headlights off!" Her father (always called "my father," never "Dad") appears insensitive and borderline abusive at first, but there's a reason for that and a discerning reader will come to sympathize with him as well. Rose sees the world a certain way: smooth and bright with clean edges. Her father's view (and most people's) is more…"nuanced" is one word, "contradictory" is another. We mesh; she doesn't. Though God is not mentioned, the story can be seen as a picture of grace and why we need it.
UPDATE: Rain Reign is the winner of the 2015 Sneider Family award, given by the American Library Association for outstanding portrayal of disabilities in children's literature.
Cautions: Language (two swear words, two misuses of God's name)
Overall Value: 4 (out of 5)
Moral/worldview value: 3.5
Artistic value: 5
Categories: Realistic Fiction, Middle Grades, Discussion Starter*, Life Issues, Award Winners
Discussion Questions:
Literary element: How would Rose describe you? How would you describe Rose?
Thematic element: How do you feel about her father at the beginning and at the end?
Worldview element: Why are rules important? Why do we break them? (See Uncle Weldon's evasion about lying on page 137.)  What rule is Rose strongly tempted to break?
Cover image from Amazon

More than 75 books for children and teens, all about islands, oceans, and more. Bonus: get a free hand-drawn reading tracker!
Reading Ahead for You
Reviews and Resources Weekly in Your Inbox