You have a Brain: a Teen's Guide to THINK BIG by Ben Carson,M. D. (with Gregg and Deborah Lewis). Zondervan, 2015. 281 pages
Reading Level: Young Adult, ages 12-15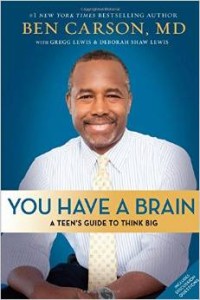 Recommended for: ages 13-18
Bottom Line: Ben Carson has achieved an amazing resume of accomplishments in his lifetime, but he claims anyone can accomplish much, if they just THINK BIG.
All the time he was growing up, Ben Carson's mother would tell him, "You have a brain." This was her all-purpose answer when he had a problem or when he was worried or when he got in trouble that could have been avoided if he had only used that amazing organ God gave him. That he became a brain surgeon is only one of the many happy ironies of his life. He recounts the highlights and formative moments of that life but not in detail—see Gifted Hands for more.
Biography only takes up half this book; the rest is advice to the young, based on personal experience, helpful hints and counsel, and encouragement offered through the Carson Scholars Fund. Dr. Carson's story is inspiring and the advice is sound, if a bit pedestrian. Most of it centers around his THINK BIG strategy (the title of his self-help book for adults). "Think Big" is an acronym for Talent, Honesty, Insight, Nice, Knowledge, Books, In-depth Learning, and God. The last section may be the weakest, as Dr. Carson approaches the subject of God from a pragmatic stance that communicates no sense of awesome majesty. For example, "I now see God as a friend who wants what is best for me and for all of us." Though he believes in Jesus, he never ponders the great gulf between God and man that only Christ could bridge. That's only to say that You Have a Brain is not a complete guide to life, but for practical first steps, there's a lot here worth thinking about and applying.
Cautions: None
Categories: Young Adult, Nonfiction, Character Values, Education
Support our writers and help keep Redeemed Reader ad-free.