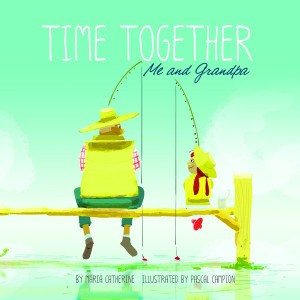 Time Together: Me and Grandpa by Maria Catherine, illustrated by Pascal Campion. Picture Window Books, 2015. 32 pages.
Reading Level: ages 0-4
Stylized art and a simple text show children spending time with their grandfathers in a variety of activities. Each two-page spread features one child with his or her grandfather engaged in one activity; the sparse text offers simple descriptions such as, "Shivery shovel time" (for shoveling snow). People pictured are nicely multi-ethnic with at least one pair that could be construed as two different races. This approach works well since there are a growing number of families that include more than one race or ethnicity (through adoption or interracial marriage). The art is sweet and will appeal to young children as they share this book with a special grandfather. The author and illustrator have teamed up for a series of Time Together books including time with grandma, dad, and mom (there's even a British version: Time with Mum).
Cautions: none
Overall Rating: 4
Worldview Rating: 4
Artistic Rating: 4
Categories: Picture Books, Grandparents, 4 stars and up
Cover image from Amazon.
A copy of this book was received from publisher (via netgalley) for a fair review.

Please follow and like us: