The Map to Everywhere by Carrie Ryan and John Parke Davis, illustrated by Todd Harris. Little, Brown, 2014. 433 pages
Reading Level: Middle Grades, ages 10-12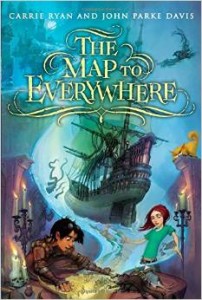 Recommended for: ages 10-14
Bottom Line: The Map to Everywhere offers an action-packed fantasy quest in which protagonists must find and assemble the pieces of a map.
Fin, formerly of Khaznot's Quayside Orphan's Preserve, possesses one strange quality that could be described as reverse short-term memory: no one remembers him. Until he receives the letter addressed to Master Thief from Someone Who Remembers You. Could it be his mother? Cryptic instructions might lead him to her, but he must figure out clues involving a ship and pirates and treasure and a mysterious key. Meanwhile, in our world, Marrill has just learned that her family's move to Phoenix is permanent—at least for now–because her mother's recurrent illness has flared up again and they must call a temporary halt to their wandering ways. On a walk around her inhospitable neighborhood, Marrill observes a mall parking lot waver and shimmer and become an endless body of water bearing a full-size ship. She has encountered the Pirate Stream, an offshoot of the Great River of Creation, manned by a wizard named Ardent and a sailor named Coll. In a blink, Marrill is transferred to another world and the only way to get back to her own is by locating all five pieces of the Map to Everywhere. Of course her path will cross with Fin's, but also with Serth the Oracle, a wizard attempting to gain control of the Pirate Stream, who makes people burst into tears whenever he sees them.
This classic quest narrative is adorned with wit, wordplay, and wild imagination as it takes the reader through one scrape after another in Riordanish style. It's almost too much, and I get a sense sometimes of action happening for its own sake. But there are some interesting thoughts on the nature of magic and reality, like: "Magic is just the potential for creation. It follows no rules, and breaks them all. A world as complex and defined by its own rules as [Marrill's], well, it cannot bear much contact with the raw stuff." Events tie up pretty well at the end, with Marrill safely delivered home to her folks. However: "If the Stream is close enough for you to stumble upon it again, well, something has gone terribly, terribly wrong." I think we know what's going to happen in vol. 2.
Cautions: Character issues (Fin turns his curse to his advantage by becoming a thief)
Overall rating: 3.75 (out of 5)
Worldview/moral value: 3.5
Artistic value: 4
Categories: Fantasy, Adventure, Middle Grades
Reading Ahead for You
Reviews and Resources Weekly in Your Inbox