*Finding Truth: Five Principles for Unmasking Atheism, Secularism, and Other God Substitutes by Nancy Pearcey. David C. Cook, 2015. 383 pages
Reading Level: Young Adult, ages 15-18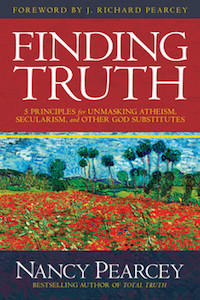 Recommended for: ages 16-up
Bottom Line: Finding Truth offers a way for older teens to examine the presuppositions and errors of the intellectual culture around them and strengthen their own faith.
Readers of Nancy Pearcey's Total Truth know what she's all about: a determined skeptic in her college years who encountered Francis Schaeffer and a whole new mode of thinking, she is now a tireless advocate for Christian apologetics. As the first chapter of Finding Truth indicates, "I Lost My Faith at an Evangelical College" is a sad refrain among young adults today (though plenty of them manage to lose their faith in secular colleges too). Pearcey quickly gets to the root of this problem: not the intellectual insufficiency of Christian faith, but the prevalence of modern idols (see Romans 1). "Idols Have Consequences," especially when a Christian teen is not equipped to recognize them. Most of the book is a five-point strategy for defining and addressing the problem:
Identify the idol.
Identify the idol's reductionism.
Test the idol: does it contradict what we know about the world?
Test the idol: does it contradict itself?
Replace the idol: make the case for Christianity.
This is a lifelong battle, but the major front is usually between between high school and settled adulthood, whether or not the young person attends college. Finding Truth is an excellent introduction to the issues he or she will encounter if they are paying attention—though the material isn't easy, it's concise and readable and she provides additional information and references in the footnotes. A study guide at the end provides much more than discussion questions—it's more like a final exam for this course in standing firm (there's even a sample essay test!). The need for Christian apologetics has never been greater, yet it's a subject long neglected in most churches and Christian colleges. Books like this will help address that imbalance.
Overall rating: 5 (out of 5)
Worldview/moral value: 5
Artistic value: 4.5
Categories: Young Adults, Nonfiction, Starred Review, Christian, Christianity, Gift Books, Education
Cover image from amazon.com
More than 75 books for children and teens, all about islands, oceans, and more. Bonus: get a free hand-drawn reading tracker!
Reading Ahead for You
Reviews and Resources Weekly in Your Inbox