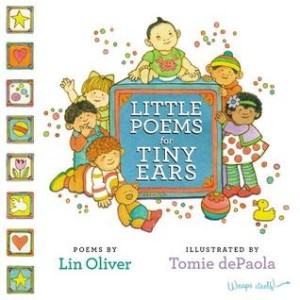 Little Poems for Tiny Ears by Lin Oliver, illustrated by Tomie dePaola. Nancy Paulsen Books, 2014. 32 pages.
Reading Level: Picture Books, ages 0-4
Poetry offers excellent language exposure for babies, and this is a good collection for the first year. Oliver's themes include a wonderful reflection of a baby's world: recognizing parts of the body, going places, familiar experiences, explorations of the kitchen drawer, and affection from both father and mother. Her rhymes are simple, told in the first person from the baby's perspective, and often amusing, such as this one:
Sneeze
A sneeze
Is a breeze
In
Your
Nose
Marvelous illustrations by Tomie dePaola show babies of a variety of ages and skin colors, full of expression, in colorful settings. This is a treat to share with a little one snuggling on your lap or as a gift.
Cautions: none
Overall Rating: 4.5 (out of 5)  
Worldview Rating: 4.5
Artistic Rating: 4.5
Categories: 4 stars and up, Poetry, Picture Books, Gift Books
Cover image from goodreads.
Please follow and like us: