Over the Hills and Far Away: A Treasury of Nursery Rhymes by Elizabeth Hammill, illustrated by various artists. Candlewick, 2015. 160 pages.
Reading Level: Picture Books, ages 0-4, ages 4-8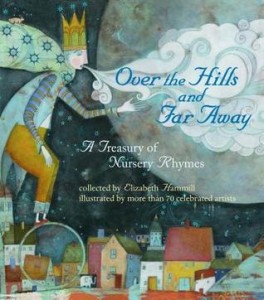 Nursery rhymes are part of cultures across the globe. They are poems full of wit, with masterful use of language a form that is irresistible to young children. In this unique collection, Hammill has compiled a wealth of such poems from Asian, Caribbean, Native-American, Hispanic and African traditions, as well as the beloved and familiar English and American Mother Goose. Some favorites, such as "Little Miss Muffet," are provided in several variations so that the reader can appreciate the cultural and language distinctions.
The artwork is outstanding. Hammill carefully considered the styles of over seventy artists and matched each one's style to the poems he or she illustrated. The result is a grand introduction to art appreciation for little ones. Just as the rhymes reflect a range of cultures and styles, so the artwork is a celebration of the creative gifts God has bestowed on individuals of all nationalities. Some of the artists are more classic (such as Eric Carle, Shirley Hughes, Jerry Pinkney, Ed Young) while others have made their mark more recently (Jon Klassen and Mo Willems). Less familiar artists are notable by association, and many would be worth exploring more.
Some parents will want to be aware of a one-page spread with three Halloween-type poems, one of which is humorous. Compared to the rest of the collection, this is relatively minor.
If you already have a Mother Goose or two in your collection, the familiarity of those old friends will make the new friends in this collection all the more inviting. A worthwhile addition to the poetry shelf.
Cautions: Supernatural (one-page spread with Halloween-type poems)
Overall Rating: 4.75 (out of 5)  
Worldview Rating: 4.5
Artistic Rating: 5
Categories: 4 stars and up, Poetry, Picture Books
Cover image from goodreads. A copy of this book was received from the publisher for a fair review.
Please follow and like us: