A Snicker of Magic,by Natalie Lloyd. Scholastic, 2014, 311 pages
Reading Level: Middle Grades, ages 10-12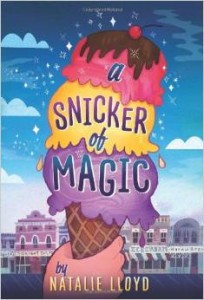 Recommended for: ages 8-12
Bottom Line: A Snicker of Magic is the folksy tale of a girl who needs a home, but it may rely too much on "magic" as a cure-all.
Felicity Juniper Pickle just wants to settle down, but since her mama was bit by the wander bug, about the same time her daddy wandered plumb off, settling down doesn't look like a possibility. However, when they arrive in Midnight Gulch, North Carolina, where Mama grew up and Aunt Cleo still lives, something tells Felicity her luck is going to change. The Gulch has a reputation for Magic—at one time, practically everybody in town had some unusual gift. But ever since Stone and Berry Weatherly, the talented brothers who fell out with each other around 1900, magic is reduced to a snicker—a leftover—"Not good for much, not as fancy as it used to be, but enough to make it special." Maybe enough to stay, for Felicity has her own special gift: she can see words forming around people and things, words that offer clues about their underlying reality. If she could just collect the right words in a poem, and speak the poem out loud at the Stoneberry Duel commemoration, the magic could break loose again and compel Mama to stay.
This story cries out to be liked, and it's likeable from Miss Felicity herself to the entire quirky population of Midnight Gulch. Even characters who come off gruff or catty have something going for them, and that (of course) is magic. Some have more of it than others, such as Felicity's first friend in town, the wheelchair-bound Jonah Pickett, whose special knack is making things better everywhere he goes. "I think you see people way better than they are," Felicity tells him, to which he replies, "I see people exactly how they are." The obstacles to be overcome are there by circumstance or a sad history, not because of anyone's fault. Felicity learns that sometimes you have to stretch the rules to overcome circumstance, especially if your affirmative inner nature demands it: Listening to my heart usually turned out to be the right thing, even if it got me grounded for life.  Not the best advice for a middle-grader.  "Magic" looks to me like a substitute for a transcendent Holy Spirit, and it gets a little monotonous. But Felicity's way with words is a delight.
Cautions: Worldview (non-Christian spirituality)
Overall rating: 3.75 (out of 5)
Worldview/moral value: 3.5
Artistic value: 4
Categories: Middle Grades, Fantasy, Life Issues
Please follow and like us: