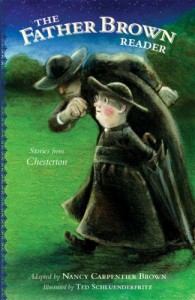 *The Father Brown Reader: Stories from Chesterton adapted by Nancy Carpentier Brown, illustrated by Ted Schluenderfritz. Hillside Education, 2007. 147 pages.
Reading Level: Middle Grades, ages 8-12
Bottom Line: This well-done adaptation of four famous Father Brown stories preserves the original lively spirit of Chesterton's famous sleuth.
The Father Brown Reader is a collection of four famous Father Brown stories: "The Blue Cross," "The Strange Feet," "The Flying Stars," and "The Absence of Mr. Glass." The first three stories feature the famous villain, Flambeau.
"The Blue Cross" shows world famous detective Valentin tracking Flambeau when he notices a short, bumbling priest. His surprise at the end of the story at Father Brown's subtle cleverness echoes the reader's similar discovery.
In "The Strange Feet," Father Brown's sharp sense of hearing and keen wit discover a crime in progress; his clerical nature allows for Flambeau's confession and escape (Father Brown never reveals what is said to him in confidence as a priest!).
"The Flying Stars" involves Flambeau once more in what is presumably his final crime. Once more, Father Brown solves the mystery while offering eternal wisdom.
The final story, "The Absence of Mr. Glass," has Father Brown urging everyone again to look at the facts: How much more interesting the story is than the mere facts!
Father Brown is just as lovable and nuanced in this adaptation as he was in the originals; these four stories are well chosen to provide a nice, round portrait of the wise, humble small priest.
Adapted literary works often suffer from, well, adaptation. Original text, skewered and mangled, results in works that talk down to the young reader or which leave out important philosophical points. Not so in this marvelous collection. Indeed, the length of these stories is not so very different from the length of the original. Slightly simplified language keeps the reading level firmly middle grades. Line drawings and sketches provide young readers with helpful "hooks" on which to hang plot details, and each story is broken up into small chapters, furthering the reader's ease. Chesterton's stories are complex affairs, playing with wit and language as much as with plot. These adaptions preserve that complexity nicely and open up the door to a new generation of readers. Many adults find Chesterton difficult reading; they, too, will enjoy these stories.
Cautions: none
Overall Rating: 5
Worldview Rating: 5
Artistic Rating: 5
Categories: Starred Review, Middle Grades, Mysteries
*indicates a starred review
Cover image from Amazon
A free copy was received from the publisher for a fair review.
Reading Ahead for You
Reviews and Resources Weekly in Your Inbox