Lucky Strike by Bobby Pyron. Scholastic (Arthur Levine), 2015. 263 pages
Reading Level: Middle Grades, ages 8-10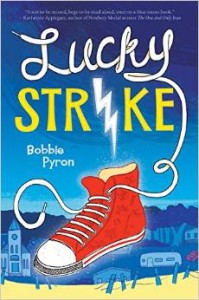 Recommended for: ages 8-12
Bottom Line: A "lucky" lightning strike changes a lonely boy into a celebrity, with results no one would have predicted.
Nate Harlow figures he's the unluckiest boy on the whole Gulf Coast, starting when his parents were killed in an accident involving a drunk driver. Now he lives with his grandpa, a charter fisherman, in Paradise Beach. His only friend is Genesis Magnolia Beam, daughter of the pastor of the Church of the One True Redeemed and Everlasting Light. She's the one guest at his birthday party, consisting of a round of Goofy Golf with the promise of cheeseburgers and ice cream later. Just his luck to be struck by lightning with a putter in his hand! But . . . when he wakes up in the hospital he's still alive and the only thing he's lost is one of his favorite high-top sneakers. And as time goes on, it appears his luck has changed. He's now so phenomenally lucky that people want him nearby. Gen, a natural skeptic, thinks there must be a logical explanation, but logic goes out the window as unforeseen complications develop.
I like that Nate, though a bit of a sad sack at first, isn't helpless bully-bait. When his luck changes, some unappealing character traits emerge at the same time that will have to be dealt with. Gen likewise—her insistence on scientific analysis and logical explanations will take a beating, and when it does, She just want[s] it to go on forever and sing Hallelujah. Reverend and Mrs. Beam are the most admirable characters of the bunch. The voice is quirky and gently humorous with a pseudo-Christian subtext—but not Christian. In spite of the Reverend's scripture quoting (including the unscriptural "God helps those who help themselves"), belief is seen as its own justification with no clear object. "Magic" and "miracle" are carelessly tossed around, with the former standing in for anything transcendent or supernatural and the latter used to refer to startling events that have happy results. The story is overwhelmingly positive—the kind of book library professionals enthusiastically recommend for its outsized optimism. And it's fun, though the "magic" cloys.
Also by this author: A Dog's Way Home
Cautions: Language (an occasional "Good Lord!")
Overall rating: 4 (out of 5)
Worldview/moral value: 3.5
Artistic value: 4
Categories: Middle Grades, Fantasy, Character Values
More than 75 books for children and teens, all about islands, oceans, and more. Bonus: get a free hand-drawn reading tracker!
Reading Ahead for You
Reviews and Resources Weekly in Your Inbox