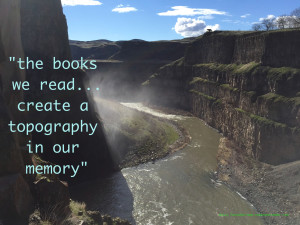 Over Christmas my family made a significant transition: we moved from East Tennessee to Central Washington.
Some complicating factors meant we were in transitional housing for six weeks, including a full week on the road in the middle of the "Arctic Blast" that forced us as far south as I-10! 3700 miles all told, 67 hours in the car, living out of suitcases for six weeks, new job, transition from full-time Christian school to homeschool… To say it was stressful is putting it mildly. Yet, the Lord had already paved the way ahead of time, and our memory topography provided structure.
The Topography of Memory
Before, during, and after our great westward trek, I found myself thinking often of Laura Ingalls, Caddie Woodlawn, and…Moses. Along with actual experiences, the books we read, particularly those we "grow up with," create a topography in our memory. Much like the western desert-like terrain I see around me now, there are memory buttes standing tall and firm, deep canyons carved from long-standing habits, stark beauty in a minimalist plateau.
 Memory Buttes: Pillars of Strength
As I looked ahead to the chaos of packing, the uncertainty of having all our belongings put in indefinite storage—save those that could fit in the trusty minivan along with two dogs, three kids, Christmas presents, and two grown-ups—reminded me of Ma Ingalls. How many times she packed up her entire household and planned for uncertainty! Laura Ingalls' autobiography recounts these as do the Little House books that I imbibed regularly as a girl. How did she do it? But as I wrapped up my fourth year of teaching Moses to a kindergarten Sunday School class, I knew: the promises of God are the real pillars of strength, the buttes in my memory's topography that stand out in the landscape. I might draw encouragement from Ma Ingalls' example, but Moses' writings, inspired by the Holy Spirit, are rock solid.
 Deep Canyons: Habits of Thought
Repeated thoughts form canyons in our memories: deeply cut paths through which our thoughts will steadily flow. Do we consistently worry? Repeatedly criticize? In Caddie Woodlawn, readers discover along with Caddie that Mama Woodlawn left much behind in Boston and yet—she wouldn't trade it for the world as long as she's with her man and her children. Boston is a constant refrain because it shaped her; it is not her reality, though. More to the point: the children of Israel were commanded to create these habits of thoughts, these refrains of hope, these canyons in the memories of their children through the celebration of the Passover, the reading of the Law, and the constant reminders of the Lord's faithfulness.
 Minimalist Plateaus: Simplicity is Beautiful
Coming from the verdant Great Smoky Mountains, it is easy to see the desert terrain surrounding me as stark and, frankly, ugly. But as we take the time to really look around us, we begin to see such beauty! Part of our move involved an intentional simplification of our schedule and belongings. We have time to notice the many shades of rock around us, the red foliage that stands out at the edge of the river, the sky—oh, the sky. The Ingalls could pack up all of their worldly possessions in a covered wagon. The Woodlawns traded royal living in England for the rough and tumble American frontier. And the children of Israel traveled with Moses through the wilderness without even enough food or water. They were forced to depend on the Lord for their very survival. Truly, the Lord has provided abundantly for us just as he always has for his people. I am sure our pioneering foremothers saw this daily as they took care of their households.
 Memory Maps
What sorts of maps are you creating in your children's memory? Not every book they read as children will work its way into their memory topography. But those you spend time in, those you reread and discuss and enjoy together, most certainly will. Let us not spend so much time in books that we neglect the Book; may the topography of our children's memories be formed by biblical truth and embellished by great literature.
Reading Ahead for You
Reviews and Resources Weekly in Your Inbox