Absolutely Almost by Lisa Graff.  Penguin, 2014, 305 pages.
Reading Level: Middle Grades, ages 10-12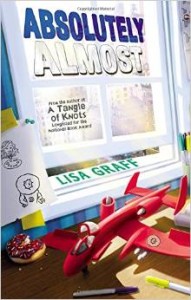 Bottom Line: Absolutely Almost is a reassuring tale for middle graders who fear they are hopelessly academically challenged, with a relatable and likeable hero.
Albie's mother always tells him he is "caring, thoughtful, and good." But he's not smart, a continuing disappointment to his mom (who tries to forget it) and his dad (who can't help remembering). As our story begins, Albie (Albin) is transferring from his Manhattan prep school to P.S. 183. This is supposedly to broaden his experience, but as we learn later, it's really because he couldn't meet the academic benchmarks at prep. In addition to a new school he's also getting a new nanny—even though, all of ten years old, he insists he's too big for a nanny. Callista, a 22-year-old art major, agrees with him: she's not a nanny or even a baby-sitter. She's just a friend, coming over to hang out. Albie will need her unique combination of sensitivity and fun in days to come as he loses three friends, is made a fool at school, and suffers the most soul-cringing birthday ever.
Albie is almost too naïve, even for an academically challenged ten-year-old. And no Reformed Christian can buy the "caring, thoughtful, and good" line. But he's tremendously likeable, to the point the reader suffers what he's suffering and cheers when he begins to feel out ways to build self-confidence. He's also learned, hopefully, to watch his blind side and not be conned by slick, pushy guys at school.
Also by Lisa Graff: A Tangle of Knots
Cautions: Language (one "hell"), Character Issues (Callista encourages Albie to pretend he's reading a book he isn't actually reading)
Overall Rating: 4 (out of 5)
Worldview rating: 3.75
Artistic rating: 4
Categories: Middle grades, Realistic Fiction, Life Issues
Cover image from Amazon

More than 75 books for children and teens, all about islands, oceans, and more. Bonus: get a free hand-drawn reading tracker!
Reading Ahead for You
Reviews and Resources Weekly in Your Inbox