The Penderwicks on Gardam Street by Jeanne Birdsall. Knopf, 2008. 302 pages.
Reading Level: Middle Grades, ages 8-12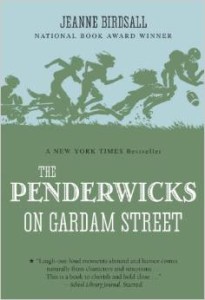 Recommended For: ages 8-10 and up
Bottom Line: The Penderwick girls return for more good-natured family adventures, this time involving a touch of romance and a dollop of deceit.
The Penderwick sisters and their long-suffering dad are back home in Cameron, Massachusetts after summer vacation, eagerly expecting a visit from Aunt Claire. Since Aunt Claire was their mother's only sister, she brings a little of Mommy with her. But this year she brings something else: a letter from the late Elizabeth Penderwick herself, entrusted to her sister to give to the girls' father four years after her passing. The gist of the letter is that Mr. Penderwick (how well his wife knew him!) has grieved long enough and should begin dating again. To the girls, as much as their dad, the prospect is more than a little icky, especially when Aunt Claire informs them she's already lined up a date. But if Aunt Claire can do it, anybody can; the sisters hatch a plan to fix up their dad with women so unacceptable he'll soon be immune from dating forever. We can guess how this will work out, but meanwhile Skye and Jane face a homework crisis that leads to them switching assignments, and Rosalind is wondering what's up with a neighbor boy who may or may not like her, and Batty and Hound have been spying on someone she calls Bug Man.
The Penderwicks on Gardam Street is as much fun as its predecessor, but less focused. School and sports and neighborhood doings introduce more story elements that aren't tied up very neatly, and the dad-dating plotline becomes predictable as soon as the pretty astrophysics professor moves next door. But there's enough fun to keep the reader entertained, and when Skye and Jane's homework swap ties them in a tangle of deceit, there's a good lesson, too: "even a tiny bit of deceit is dishonorable when it's used for selfish or cowardly reasons." But then, their father (whom we get to know much better in this book) is shown to be not entirely up-front himself. It all leads to confession and forgiveness, though, so that's all right. [See our reviews of the other Penderwicks books: The Penderwicks, The Penderwicks at Point Mouette, and The Penderwicks in Spring]
Cautions: none
Overall Rating: 3.75 (out of 5)
Worldview Rating: 3.5
Artistic Rating: 4
Categories: Realistic Fiction, Middle Grades, Character Values, Life Issues
Cover image by Amazon

Stuck at home? Enjoy our FREE Christian read-along adventure for all ages with lots of book ideas, discussion questions, and more!
Reading Ahead for You
Reviews and Resources Weekly in Your Inbox