*The Dirty Cowboy by Amy Timberlake, illustrated by Adam Rex. Farrar, Straus and Giroux, 2003. 32 pages.
Reading Level: Picture Books, ages 4-8
Recommended For: ages 4-8 (especially boys)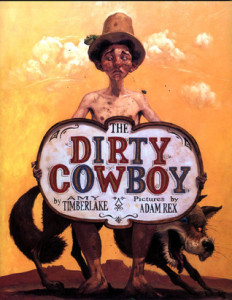 This ol' boy needs a bath! Four characteristics of an outstanding picture book read-aloud include: great story, excellent artwork, quotable lines, and a fun accent. The Dirty Cowboy scores highly on all counts.
Long overdue for a scrub, a cowboy goes down to the river and gives his faithful dog strict instructions: 'Dawg!' he said. 'No one touches these clothes but me. Hear?' After enjoying a cleansing romp in the water, the cowboy returns to fetch his duds for soaping. Unfortunately, his obedient dog doesn't recognize him without the familiar cowboy stench and fiercely guards the pile. A hilarious tussle ensues between faithful dog and squeaky clean cowboy, and by the end of the book, the devoted dog now recognizes the scent of the once-again-dirty-cowboy…but the clothes have bitten the dust.
The story is told with an irresistible drawl that is fun to read. The cowboy's birthday suit is carefully guarded in the illustrations (parents should be aware, but the effect is humorous), and any child who has an opinion about taking a bath will appreciate this lively story. Great fun.
Cautions: Mild bathTUB humor
Overall Rating: 4.5 (out of 5)
Worldview Rating: 4
Artistic Rating: 5
Categories: Picture Books
Cover image from Goodreads
*indicates starred review

Support our writers and help keep Redeemed Reader ad-free.