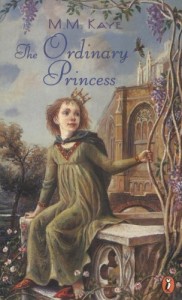 *The Ordinary Princess by M. M. Kaye. Puffin, 2002 (originally published in 1980). 128 pages.
Reading Level: Middle Grades, ages 8-10
Bottom Line: Princess Amy, cursed with being ordinary, discovers that she quite likes being ordinary in this charming modern fairy tale.
Princess Amethyst Alexandra Augusta Araminta Adelaide Aurelia Anne of Phantasmorania ("Amy" for short) is the seventh daughter of her royal parents. Blessed with gifts such as Wit and Charm from some of her fairy godmothers, a rather eccentric fairy godmother ends the christening by bestowing on Amy the dubious gift of being "ordinary." Such begins this light-hearted modern fairy tale that riffs on the longstanding fairy tale tradition.
Unlike her six sisters, all of whom have blue eyes, long golden hair, and tremendous grace, Amy has a turned up nose, mouse-brown hair, and freckles. She prefers playing in the forest to turning curtsies, and, when her turn to get married arrives, the neighboring princes all find excuses to keep from proposing. Amy isn't bothered by this, but when her father decides to hire a dragon to lay waste to the neighboring countryside in hopes that some valiant prince will slay the dragon (thus earning the princess's hand), Amy takes matters into her own hands. Escaping to her forest refuge, she lives quite happily among the forest animals and lives off nuts and berries.
Eventually, her garments begin to wear out. At this point, she is reminiscent of Cinderella in her rags. But Amy's fairy godmother doesn't wave a wand to transform her dress. No, Amy's fairy godmother gives Amy sound and sensible advice: If I were you, I'd go there [a neighboring city] and get myself a job. Because one thing is certain…if you go about in those clothes much longer, they will simply fall to bits.' And Amy follows it!
Thus Amy ends up working much like Cinderella in her rags. Another twist to this Cinderella tale is that the ball scene plays out very differently. Amy still meets her prince, but the reader will have to discover just how that happens.
A marvelous fairy tale that is quite accessible to younger readers, this story celebrates true love, hard work, inner beauty, and ordinary folk. It is a great counterpoint to the many Cinderella and princess stories out there, and young princess fans will delight in it. Kaye's prose is just as delightful and charming as is Princess Amy.
Cautions: none
Overall Rating: 5 (out of 5)
Worldview Rating: 5
Artistic Rating: 5
Categories: Fairy and Folk Tales, Fantasy, Middle Grades, Character Values, Starred Review, Retro Reads
*indicates starred review
Cover image from Amazon

More than 75 books for children and teens, all about islands, oceans, and more. Bonus: get a free hand-drawn reading tracker!
Reading Ahead for You
Reviews and Resources Weekly in Your Inbox