The Sherwood Ring by Elizabeth Pope.  Houghton Mifflin Harcourt, 2001.  272 pages
Reading Level: Young Adults, ages 12-15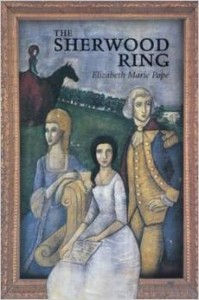 Maturity Level: 5 (ages 12-14) and up
Bottom Line: In this classic YA novel originally published in 1958, four ghosts from Revolutionary War days teach a lonely young woman about romance.
Peggy Grahame, latest in an unbroken line of Grahames, is coming to live with her great-uncle Enos after the death of her parents.  Uncle Enos dwells in splendid isolation at the original family estate in upstate New York, a place quirkily called Rest and Be Thankful.  On her walk from the railroad stop to her new home, Peggy happens to meet a young British scholar, Pat Thorne, whose genealogical  research in England has raised questions that only Enos can answer.  But once they reach the house, the eccentric old man takes a sudden and inexplicable dislike to Pat, ordering him "Out!  And stay out!"  That leaves Peggy pretty much on her own in the ghostly environs—which, as she soon learns, include real ghosts.  But not the haunting kind; these are friendly ghosts, who over the next few weeks share their story with the lonely girl.  It's a tale of intrigue and espionage, battle skirmishes and hairbreadth escapes involving one Peaceable Sherwood, the daring Tory renegade who turned the county upside-down back in the stirring days of 1778.  It's also a story that bears some relationship to Peggy's own, for Richard and Barbara Grahame are her ancestors, whose hard-won success at love offers hope for her.  (George Washington makes an appearance too, but not as a ghost, and he doesn't fall in love.)
It's not, strictly speaking, a "love story," more a historical romance, with some additional fun stuff about codes and cyphers and an elaborate guessing game involving sleeping powder in a glass of wine (not iocane powder, which would have had completely different results).  Pope is the author of The Perilous Gard , which is a deeper, more thought-provoking read (and also a historical romance).  The Sherwood Ring is more for fun—a lighthearted, even charming, flight of fancy with engaging characters—many of whom learn valuable lessons about themselves in the course of the story.  There's also plenty of little-known history folded in.  The cover is kind of awful; I like the original cover better, but it's hard to find.  Anyway, once the book is open it makes for a pleasant evening read while the nights are still long and cold, and some teenage girl readers may fall just a little in love with Peaceable Sherwood.  I speak from experience.
Cautions: none
Overall Value: 4 (out of 5)
Moral/worldview value: 3.5
Artistic value: 4
Categories: Historical Fiction, Fantasy, Romance, Young Adult, Older Books, History, Spies, War

More than 75 books for children and teens, all about islands, oceans, and more. Bonus: get a free hand-drawn reading tracker!
Reading Ahead for You
Reviews and Resources Weekly in Your Inbox