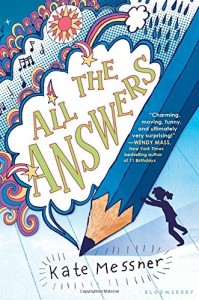 All the Answers by Kate Messner. Bloomsbury, 2015. 256 pages.
Reading Level: Middle Grades, ages 10-12
Recommended For: ages 10-12, especially girls
Bottom Line: In this middle-grades novel, Ava finds a magic pencil that writes answers out to her questions; the question is, is that really a good discovery?
In her haste one morning, Ava grabs a pencil from the kitchen drawer. During her math test, Ava realizes that the pencil can tell her answers to the questions she's writing down. Obviously this is the sort of thing to tell a best friend, and soon Ava and Sophie are testing the pencil's knowledge. They move on from homework questions to whether a boy likes a girl, information about their teachers, and questions about the future (which the pencil refuses to answer). They even question the pencil about how to make the folks at the retirement center (including Ava's grandfather) happier; when Ava and Sophie act on the pencil's advice, the results are heartwarming. On her own, Ava starts asking heavier questions: Will her parents stay together? Is her grandmother going to be okay? But Ava soon realizes that some things are better left unknown.
Ava Anderson is a very typical middle school girl. And she worries…a lot. While her anxiety drives her to some creative ruses in her attempt to avoid things that frighten her (such as the class field trip to a woodland retreat center), even those who don't worry to the same extent as Ava will resonate with her fears. After all, most middle schoolers spend some time worrying over their friends, their parents' marriages or jobs or health, their school situation. Readers will enjoy watching Ava come to grips with some of her fears as well watching Ava interact with her family (which include her grandparents, parents, and sibling). The family interactions and Ava's character development are wonderfully written. Middle school is a time of anxiety for many students, and they will relate easily to Ava. It's also a great starting point for discussing worry and what the Bible says about it!
Spoiler alert: Ava ends up thinking the pencil is her late Grandma Marion; before that, the pencil is simply a "magic" pencil. Still, some readers may wish to know that there is the presence of a possible ghost at the end.
Cautions: Supernatural (possible ghost at end)
Overall Rating: 4 (out of 5)
Worldview Rating: 4
Artistic Rating: 4
Categories: Middle Grades, Realistic Fiction, Discussion Starter, 4 Stars and Up, Character Values
Discussion Questions:
Literary Element: Does the pencil "work" as a plot device? Were you able to suspend your disbelief?
Thematic Element: At the end of the book, Ava is convinced the pencil actually represents her deceased grandmother. How does this change the "wisdom" the pencil dispenses throughout the book? Is the pencil more or less trustworthy if it is an actual person giving wise insight v. an impersonal all-knowing force? What about Ava's conclusion about worry?
Worldview Element: There are many verses in Scripture that deal with worry and anxiety. How does Matthew 6:34 or Philippians 4:6-7 relate to Ava's struggle with anxiety?
Cover image from amazon. A free copy of this book was received from the publisher via netgalley for a fair review.

More than 75 books for children and teens, all about islands, oceans, and more. Bonus: get a free hand-drawn reading tracker!
Reading Ahead for You
Reviews and Resources Weekly in Your Inbox