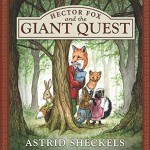 Hector Fox and the Giant Quest (Hector and Friends) by Astrid Sheckels. FastPencil Premiere, 2014. 32 pages . 
Reading Level: Picture Books, ages 4-8
Recommended For: ages 0-8
If only fairy tales were real! Such a wish begins this cute picture book as Hector and his friends set out in search of a giant. Detailed illustrations bring the five anthropomorphic animal characters to life as they pursue their quest and make a new friend. The text hints at just the right level of suspense for toddlers and preschoolers. This picture book may feel a touch formulaic to more experienced readers, but young children will enjoy it, particularly if they are part of a family that enjoys—and reads—fairy tales and fantasy regularly.
Cautions: none
Overall Rating: 3.5
Worldview Rating: 3.75
Artistic Rating: 3.25
Categories: Picture Books, Fantasy, Animal Stories
Cover image from Amazon

Please follow and like us: