Jonathan Edwards by Simonetta Carr, illustrated by Matt Abraxas. Reformation Heritage, 2014. 64 pages.
Reading Level: Middle Grades, Ages 8-10
Recommended For: Ages 8-10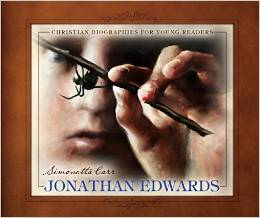 Simonetta Carr continues her series on great men and women in church history with a biography on Jonathan Edwards. This fascinating story is full of illustrations that provide both historical context and a taste of his accomplishments. In his youth he studied spiders and thunderstorms and learned more of the greatness of God from them. He applied his mind to the scientific and philosophical theories of his day and saw God's handiwork in them. He played a significant role in the First Great Awakening and had George Whitefield in his home. Ever heard of David Brainerd and Aaron Burr? Read this book to find out how they were connected to the Edwards family.
This biography contains helpful explanations for the reader regarding Edwards's life and contributions to church history. In addition to the story of his life, a number of interesting details are provided at the end, as well as a copy of a letter that Jonathan wrote to his daughter Mary that demonstrates his fatherly affection, his passion for God and care for his daughter's soul. A good resource to introduce children to a great man who was passionate for the truth of God and the salvation of souls.
Cautions: none
Overall Rating: 4.5 out of 5  
Worldview Rating: 5 out of 5
Artistic Rating: 4 out of 5
Categories: 4 stars and up, nonfiction, Middle Grades, Christian, Church History, American History, Christianity, character values, Christian life
Cover image from Amazon. A free copy of this book was received from the publisher for a fair review.
Support our writers and help keep Redeemed Reader ad-free.