First Date (Dating Games #1) by Melody Carlson. Revell, 2013. 212 pages.
Reading Level: Young Adults, ages 12-15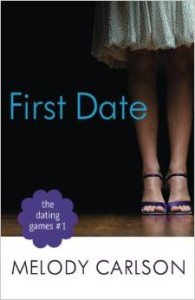 Maturity Level: 6 (ages 15-18)
Bottom Line: The first volume in the Dating Games series by Melody Carlson has fun with the burning issue of dating and Christian girls but feels underdeveloped in some areas.
It was Devon's idea. Northfield Prep, the Christian school to which she's just transferred, is, like, Boring High, and needs some sizzle. So as they're all sixteen or thereabouts (sophomore year), she proposes the Dating Club with Emma, her BFF, and three other carefully selected girls. The purpose of the club is to help each other get dates. Moms will love this book—NOT! The premise seems hokey, the girls not that concerned about living a Christian life (two are not even Christians), and their parents have little influence and less real wisdom. Most of the adults seem clueless, especially Mr. Worthington, the assistant principal, who gathered all the boys in the auditorium and challenged them to abstain from dating for a year. Then why is the school sponsoring a homecoming dance? The girls wonder about this, but it's not really explained—anyway, their challenge is to get boys who have promised not to date to . . . well, date.
To a parent, it sounds awful, but it isn't bad in the working out. Cassidy, the disapproving, goody-two-shoes type, learns to be less of a legalist and more gracious to those outside her moral parameters. Devon, the rebel, learns that prudent guidelines between the sexes are there for a reason. The other girls learn to share the adventure with their parents, many of whom have their own relationship struggles. Like many Christian novels, this one doesn't talk much about Christ. The God-talk is pretty generic until the end, when Jesus makes more of an appearance. The story turns out to be more about friendship than dating—a most relevant concern at this age. But some of the counsel can be misconstrued. Here's Julia, the church youth leader: "I can give you advice, but you have to go to God for specific answers. Listen to God and listen to your heart." Might the baby Christian who was asked to a basketball game by the hot-guy-with-a-bad-reputation convince herself that God and her heart agree she should go out with him and tell him about Jesus? The Bible warns against that kind of thing: see I Cor. 15:33. Also, parents take a back seat to peers. As Emma says: It's almost like God is speaking to me through my friends. This is to some degree a literary demand—middle grade and YA novels often require parents to fade into the background to allow the young protagonists to solve their own problems. Still, you'd think that among five girls one set of parents would have it pretty much together. It's only the first volume in the series, though; Blind Date (#2), Double Date (#3), and Prom Date (#4) may provide further development.
Cautions: Character Issues (parents seen as well meaning but ineffective)
Overall Value: 3.5 (out of 5)
Moral/worldview value: 3.75
Artistic value: 3.5
Categories: Realistic Fiction, Young Adult, Romance, Christian, Life Issues
Book received from the publisher in return for an unbiased review.
Cover image from Amazon

Please follow and like us: