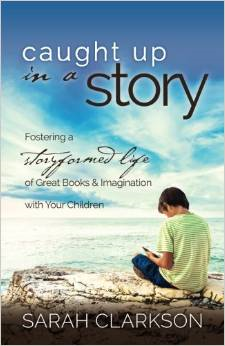 This book is a "Best of the Best" pick from our Winter Book Fair. CLICK HERE to see more gift ideas!
Hark, Redeemedreaders!  This review was written by Mary Jackson, a World writer and homeschool mom of three.  We're very excited to have her join our team, and we look forward to sharing many more of her insights with you!  Welcome, Mary!
*Caught Up in a Story by Sarah Clarkson. Storyformed Books, 2014. 138 pages.
Reading Level: Adults, ages 16 and up
Maturity Level: 7 (ages 16 and up)
We had just pulled away from Grandpa's house after his regular read-aloud of J.R.R. Tolkien's Lord of the Rings Trilogy. After a few moments of windshield wipers swishing, my nine-year-old son lamented, "Gandalf seems to leave the fellowship and Frodo just before they face their biggest trials. He doesn't make it easy on them." Gathering hope, he added: "But he'll reappear when they need him the most."
For my son, an epic story was making real-life qualities such as trust and courage palpable. Even I had been breathing in the story's timely strength and hope.
In childhood and throughout our lives we have the opportunity to let stories speak to us. Author Sarah Clarkson encourages a rich and regular intake of Scripture and good literature in her recent book Caught Up in a Story: Fostering a Transformed Life of Great Books & Imagination with Your Children. She credits her parents with surrounding her and her siblings with heroic tales that rendered them "storyformed souls" as they reached adulthood: "If we could imagine great stories, there was a chance, the hope, that we could live them too."
Clarkson applies plot structure—exposition, rising action, crisis, falling action, and denouement—to her chapter headlines and the transformative role stories play at each stage of children's growth. She expounds on a story's influence within the scene setting of the early years, curiosity and re-enactment in the middle years, points of decision and loneliness in early adulthood, and a call to endurance and joy throughout our unfolding narratives.
Clarkson concludes each chapter with "Ten Tales to Begin," suggesting several recognizable authors and titles. Her book is not a how-to or a what-to-read, though. It is a compelling "why" for nurturing children's imaginations, mostly directed toward busy parents grappling with technology's lure and jam-packed schedules that push performance and data acquisition in the early years.
"To love God in this world takes heroic commitment," Clarkson writes. Great stories help unlock hidden truths, other worlds, relatable yet valiant heroes, and villains showing where sin leads without Christ. Clarkson emphasizes that children are not abstract philosophers; they need vivid characters and stories to illustrate real-life qualities such as faith, courage, hope, and endurance.
Cautions: None
Overall Value: 4.5 (out of 5)
Moral/worldview value: 4.5/4.5
Literary value: n/a
Categories: Nonfiction, Adult, Parenting, Education, Reading, Imagination, Stories, Literature, Christian, Read-Alouds, Character Values, All.
Cover image from Amazon
*indicates starred review

Please follow and like us: