*On the Wing by David Elliot, illustrated by Becca Stadtlander. Candlewick, 2014. 30 pages.
Reading Level: Picture Books, ages 4-8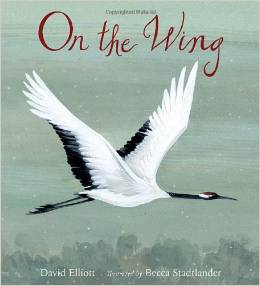 Maturity level: 2 (ages 4-8) and up
One-line Summary: On the Wing beautifully celebrates the varieties of bird life in this picture book for all ages.
Birds and picture books seem to be made for each other—their graceful soaring inspires both poetry and painting. The best of both are combined in On the Wing. Fifteen varieties of bird life—majestic, comical, plain, striking, huge, tiny, familiar and strange—are complimented with a variety of verses and vivid acrylic portraits. Some of the verses rhyme, some exclaim, some murmur and some sum up their subject in an admirably pithy way, such as "The Macaw": Who/ spilled/ the/ paint? Some unspool in long moody lines, befitting The Albatross": …over the schooners/ and three-masted whalers,/ guiding the untethered/ souls of lost sailors/ home through the winds/ of the measureless sky.
It's a treat for bird lovers—of all ages.
Cautions: none
Overall rating: 5 (out of 5)
Moral/worldview value: n/a
Artistic value: 5
Categories: Picture Books, Poetry, Birds, Gift Books, Read-Alouds
Cover image from Amazon

More than 75 books for children and teens, all about islands, oceans, and more. Bonus: get a free hand-drawn reading tracker!
Reading Ahead for You
Reviews and Resources Weekly in Your Inbox