This book is a "Best of the Best" pick from our Winter Book Fair. CLICK HERE to see more gift ideas!
*The Girl and the Bicycle by Mark Pett. Simon & Schuster, 2014. 40 pages.
Reading Level: Picture Books, ages 4-8
Maturity Level: 1, 2 (ages 4-8)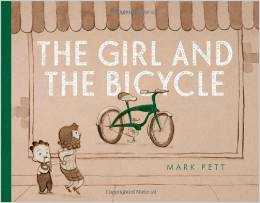 A young girl with her little brother in tow notices a green bicycle in a store window and is seized with motivation. She is determined to do what it takes to get the money: searching for loose change, selling toys, and finally helping a neighbor do odd jobs for several months. When her labors are finally rewarded with shocking disappointment, her true character shines, and the results are greater than she had anticipated.
This book is a rare gem that demonstrates ambition, diligence, friendship, sacrifice, generosity, gratitude, and love. The illustrations are fairly simple line drawings with minimal color, excellent pacing, and thoughtful expressions. Those who have seen Pett's previous book The Boy and the Airplane will recognize a deeper layer to this book, though it can stand alone. Highly recommended.
Cautions: none
Overall Value: 5 (out of 5)
Moral/worldview value: 5
Literary value: 5
Discussion Points: Does this story remind you of the pearl of great price? How do her efforts to earn the bike compare with her relationships to her brother and her neighbor?
Categories: Starred Review, Wordless, Picture Books, Character Values, Realistic Fiction
Cover image from amazon.
*indicates starred review

More than 75 books for children and teens, all about islands, oceans, and more. Bonus: get a free hand-drawn reading tracker!
Reading Ahead for You
Reviews and Resources Weekly in Your Inbox