The Young Carthaginian by G.A. Henty. Audiobook read by Jim Weiss. Greathall Productions, 2004. 
Reading Level: Middle Grades, ages 8 and up
Maturity Level: 4 (ages 11-12) and up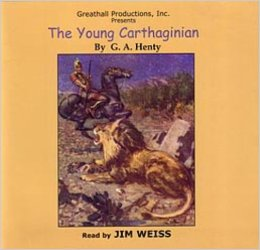 You would think that G.A. Henty, the prolific Victorian writer of vivid historical fiction, was an eyewitness to Hannibal's campaign to conquer Rome by taking his army along with their elephants across the Alps. Hannibal was a brilliant general but an underdog compared to the power of Rome. Although he did not succeed in his intentions, his victories were remarkable.
Henty typically uses a fictional character who is conveniently close to the action in his novels.  In this case, it is Malchus, a fictional cousin of the great Hannibal, whose story we are told. Details of his adventures are woven into historical accounts with rich, sophisticated vocabulary that celebrates noble virtues and heroism.
Malchus is a loyal patriot to Carthage and eager to see her freed from political domination both from the present corrupt leadership and the threat of Roman invasion. So when he is offered the opportunity to join Hannibal's army, he does not hesitate. His action-packed adventures include surviving attacks from lions, wolves, and bears (oh my!); enemy capture on numerous occasions; and, oh yes, a few military conquests. Henty's own experience serving in the Crimean War and his later years as a war correspondent made him capable of describing battles in vivid detail, and this book amply displays his skill.
There is nothing specifically Christian in the story, but the worship of pagan gods and in particular the worship of Molech, which included the sacrifices of adults and infants, are roundly condemned by Malchus.
Captivated by the excellent narration of Jim Weiss, we were left with two questions on our minds:
Which parts were based on fact and which were entirely fictitious?
How many more daring escapes could Malchus and his attendants accomplish on so little sleep?!
On one matter there was certainly no question: we would be glad to experience more Henty stories, especially those narrated by Jim Weiss. Recommended especially for boys or family read-alouds.
You are invited to read our interview with Jim Weiss. (Mr. Henty was unavailable for comment.) You can find more Greathall audiobooks here and here.
Cautions: Violence (not gory; battle scenes and hunting)
Overall Value: 4 (out of 5)
Moral/worldview value: 4
Artistic value: 4
Categories: Historical fiction, Audiobooks, Ancient History, War, Middle Grades
Cover image from Greathall Boutique
A free copy of this book was received from Greathall Productions for a fair review.
More than 75 books for children and teens, all about islands, oceans, and more. Bonus: get a free hand-drawn reading tracker!
Reading Ahead for You
Reviews and Resources Weekly in Your Inbox