Come On, Seabiscuit! by Ralph Moody. Bison Books, 2003. 172 pages. Audiobook read by Jim Weiss. Greathall Productions.
Reading Level: Middle Grades, ages 8-12, Young Adult, ages 12-18, Adult, ages 16 and up
Maturity Level: Level 4 (ages 11-12) and up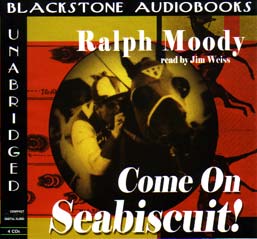 Seabiscuit was the grandson of the great thoroughbred racehorse Man O' War, but as a colt he didn't look like he would amount to much. His head was too big, his legs too short, and his bad habits and temperament hindered his early training. Finally one unlikely cowboy, Tom Smith, saw the potential in the outcast horse and lovingly applied his skills to healing and training Seabiscuit. His owner, Charles Howard, and his jockeys, Red Pollard and George Woolfe, encouraged Seabiscuit's remarkable intelligence and competitive spirit which spurred him on to win races and the admiration of the public in spite of losses and challenging circumstances.
This heroic Cinderella story of an outcast horse who became one of the all-time best racehorses is well told by Ralph Moody and enhanced by Jim Weiss's reading in the audio version. Ralph Moody, a horse lover and cowboy known for his Little Britches series, is a compelling writer who helps the reader understand and care about the physical complexities of horse racing and appreciate the impossible odds that Seabiscuit repeatedly overcame. Parents should be aware of the recurrence of gambling on Seabiscuit's odds of winning, though the emphasis is on the kindness of the people who cared for him and on his perseverance in spite of obstacles. Great family listening. The book can be found on Amazon; the audio version is available from Greathall Productions.
See our interview with Jim Weiss here and a review of Carry On, Mr. Bowditch, another great audiobook read by Jim Weiss here.
Cautions: Character Issues (Gambling)
Overall Value: 4 (out of 5)
Moral/worldview value: 4
Artistic value: 4
Categories: Nonfiction, Audiobooks, Animals, Sports, Middle Grades, Young Adult
Cover image from Greathall Productions. A free copy of this book was received from Greathall Productions for a fair review.
Please follow and like us: