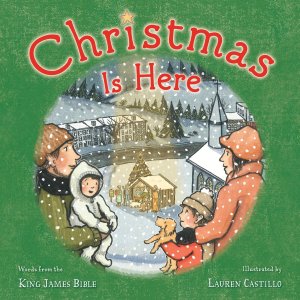 This book is a "Best of the Best" pick from our Winter Book Fair. CLICK HERE to see more gift ideas!
We are participants in the Amazon LLC affiliate program; qualifying purchases you make through affiliate links like the one below may earn us a commission
Christmas is Here by Lauren Castillo. Simon & Schuster, 2010. 32 pages.
Reading Level: Picture Books (0-4, 4-8)
Maturity Level: All
The only text in this sweetly illustrated picture book comes from the KJV version of Luke 2, a familiar text even to many children. Wordless pictures show a young family (dad, mom, boy, babe-in-arms, dog) walking towards a live nativity scene one snowy night. As they near the scene, the words from Luke 2 transport them (and the reader) back (mentally) 2000 years to the night the shepherds heard that most wonderful of proclamations:
For unto you is born this day in the city of David, a Savior, which is Christ the Lord.
As the family (and reader) draw close to the stable, the background shifts, and once more we are in 21st-century America looking at a reenactment while a choir stands around singing. Many picture book retellings of the first Christmas show merely a Westernized imagining of the "actual" event or attempt to portray what the Christ child actually looked like. Castillo's skillful watercolor and ink illustrations remind us subtly that we are looking at that event from our current perspective, but that the birth of Christ is just as relevant today as it was to the shepherds 2000 years ago. This is a must read, and it will be a treasured book to bring out with the Christmas decorations each year.
Cautions: none
Overall Value: 5 (out of 5)
Moral/worldview value: 5
Artistic value: 5
Categories: Picture Books, Holidays, Starred Review, Gift Books.
Cover image from amazon