The Dawning of Indestructible Joy: Daily Readings for Advent by John Piper.  Crossway, 2014,96 pages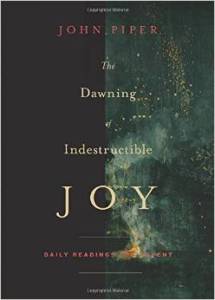 Reading Level: Young Adults, ages 12-15
Maturity Level: 6 (ages 15-18) and up
One-line summary: This short devotional guide for teens and adults shares John Piper's unique perspective on the coming of Christ in preparation for the Christmas season.
The joy Jesus gives is indestructible, writes Piper—"but it can go to sleep." Most of us, including the author, tend to distraction or gloom when earthly matters overwhelm us; even 2000 years ago, just one generation removed from Christ's resurrection, the apostle Peter was writing to "stir up" the joy of the Spirit (II Peter 1:13 and 3:1) in his readers. "Stirring up" is one theme of this book; the other is "fullness," as in Paul's well-known prayer for believers to grasp the breadth, length, height, and depth of God's love expressed through Christ (Eph. 3:18-19).
The Advent season is a special time to draw near to the heart of God, but of course we're too often consumed with shopping, budgeting, crafting, singing, partying, and planning to spare much time for what it's all about. As in Good News of Great Joy, Piper's devotional book published a year ago, these 25 short devotionals were taken from sermons, chosen and edited by the staff at Desiring God Ministries, with final edits by Piper himself. Each stands alone, with a short scripture passage—no pictures, discussion questions, or song suggestions. It's probably intended for private devotions but would work well for a family with older children: a simple, direct means of focusing on the meaning of Christmas during the busy holiday season. The book concludes with a Christmas sermon on the theme of peace.
Cautions: None
Overall value: 4.5 (out of 5)
Worldview/moral value: 5
Artistic value: 4
Categories: Nonfiction, Christian, Devotionals, Young Adults, Adults, Holidays, Christianity, Life Issues, Read-Alouds
Cover image from Amazon
A free copy of this book was received from Crossway for a fair review.

Please follow and like us: