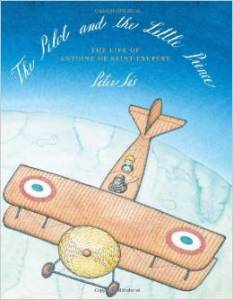 The Pilot and the Little Prince: The Life of Antoine de Saint-Exupéry by Peter Sis. Farrar, Straux, and Giroux, 2014. 48 pages.
Reading Level: Picture Books, ages 4-8, 8-10, 10-12
Maturity Level: 2, 3, 4 (ages 4-12)
Part picture book biography of the man who wrote The Little Prince and part history of early flight, this is a stunning book to read on multiple levels. The storyline along the bottom of the pages is well suited to ages 4-8 while the extensive text sprinkled in among the illustrations is better suited to older children, particularly those interested in early airplanes and 20th-century history. Saint-Exupéry was both author and accomplished pilot. Sis combines wordless, double-page spreads with pages full of multiple, smaller illustrations encircled by a line of text (often set against maps) to add drama and complexity to Saint-Exupéry's story. A poetic musing about the author's mysterious disappearance and "finding his own planet" ends the story. This eases the emotional punch of the pilot's demise, but readers will want to discuss that ending with their children. A small, selected bibliography is included for those wishing to do further research.
Cautions: Worldview (a one-line poetic reference to the afterlife)
Overall Value: 4.5 (out of 5)
Worldview value: 4
Artistic value: 5
Categories: Picture Books, Auto/Biography, History, Education (Curriculum enrichment), Language Arts
Cover image from
amazon
Please follow and like us: