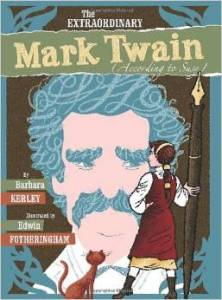 The Extraordinary Mark Twain (According to Suzy) by Barbara Kerley and illustrated by Edward Fotheringham. Scholastic, 2010. 48 pages.
Reading Level: Picture Books, ages 4-8, 8-10
Maturity Level: 2, 3 (ages 8-10)
Like his famous Huckleberry Finn, Mark Twain was a larger-than-life character. Famous during his own lifetime, Twain was the subject of much critical attention. His daughter, Suzy, decided that most critics didn't really know her father, and she secretly set out to write an accurate portrayal of him. When Twain's wife discovered the journal and showed it to him, he was thoroughly amused. Later, when Twain wrote his autobiography, he included many of Suzy's accounts. Kerley and Fotheringham's teamwork combined with excellent book design make this picture book biography as robust and cheerful as Twain himself. Not only are direct quotations from Suzy's diary included, but small little booklets that look like her diary are also bound in with the bigger pages. Author's notes, a timeline, an extensive source list for quotations, and a detailed explanation to young readers about how they can write a good biography make this book stand out in the field.
Cautions: none
Overall Value: 4.5 (out of 5)
Moral/worldview value: 4
Artistic value: 5
Discussion Points:
Worldview: Is there anything else about Mark Twain (such as his religious views) that you would like to know?
Literary Value: Try using Kerley's directions in the back of this book to write a biography on someone in whom you are interested.
Artistic Value: How would you design a picture book biography of the person you chose for the question above? What extra details would make the book stand out (like the journal pages from Suzy's diary in this biography)?
Categories: Picture Books, Auto/Biography, Education, Nonfiction, Language Arts
Cover image from
amazon
More than 75 books for children and teens, all about islands, oceans, and more. Bonus: get a free hand-drawn reading tracker!
Reading Ahead for You
Reviews and Resources Weekly in Your Inbox