Ava and Pip by Carol Weston. Sourcebooks, 2014, 211 pages.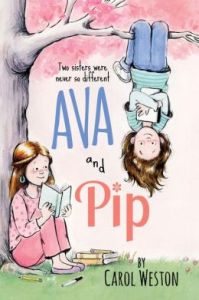 Reading Level: Middle Grade (11-12)
Maturity Level: 4 (11-12)
On the first day of fifth grade, Ava asks her parents why they named her Ava. "Because we like palindromes," says Dad. That's why Ava and her older sister's name spell the same forward and back, and their middle names do too. "And suddenly it's as if I saw the whole world–or at least the whole world of words—in a brand new way." Appropriately, she writes about this in her journal because she's a writer. Words and wordplay don't end with palindromes—also alliteration (notice how she ends every diary entry), homonyms, puns, and onomatopoeia. They'll help her express the challenges of fifth grade, especially regarding Pip. Ava does well in school and life, but Pip is almost pathologically shy. This is both touching and frustrating for Ava, who would like to help her sister, but would also like a little of the attention Pip gets from their overly-concerned parents. Even the story competition Ava enters doesn't get a lot of home-based huzzahs until it backfires in a big way.
There's a lot to like here—loving family, engaging voice, nice reversals when Ava (and others) realize they've made some misjudgments. It wraps up a little too neatly, and there's no spiritual dimension. But there's a clear sense of right and wrong and some nice aphorisms, like I guess people can't help but judge books by their covers and covers by their books. (By the way, I have a quarrel with the cover, in which the sisters appear to be little girls, rather than 10 and 13 years old.) A bonus list of palindromes is included—both those that appear in the story plus some extras.
Cautions: Vulgarity (very mild—a few mentions of "butt" and one of "boobs")
Overall value: 3.5 (out of 5)
Moral/worldview value: 3.5
Artistic value: 4
Recommended for: girls, independent readers
Recommended use: independent reading, discussion starter, language arts tie-in
Discussion points:
Literary element: How does the wordplay enhance the story for you—or does it?
Thematic element: What does Ava mean when she says the discovery of palindromes helps her see the world in a "whole new way"?
Worldview element: What convicts Ava of her mistakes? Does it help her moral understanding that her parents tell her she's awesome?
Categories: fiction,realistic fiction, siblings, puberty, language arts, wordplay, figures of speech, writing
Reading Ahead for You
Reviews and Resources Weekly in Your Inbox