Ready to move on from Frog and Toad? Henry and Mudge getting too easy for your newly independent reader? Rest assured:  Junie B. Jones, Judy Moody, Captain Underpants, and their ilk are not the only new kids on the block. Back in my day, readers would have graduated from Frog and Toad to a book about kids like Ramona Quimby or Henry Huggins (who still exist and still charm young readers, by the way). These days, nearly every book list featuring early chapter books contains mention of Junie B. Jones and her sassy companions.
I'm of the opinion that our book friends should resemble our real friends. They don't always look and act like us–and that's okay. But just as we pick close friends who share similar basic values, we look for close book friends along the same lines. To that end, we seek out childlike books instead of childish books. Childlike books feature children acting like children but maturing from one stage to the next: they make mistakes, grow up a bit, struggle with relationships and moral quandaries, and are a lot like regular kids. Childish books also feature children acting like children but, instead of showing them maturing, celebrate the juvenile: sassy behavior, sarcasm, back talking to parents, temper tantrums, and the like. The early chapter books below are great examples of childlike books–check them out.
Side Note: The two series below are both published by Albert Whitman & Co. I was a bit of an annoyance to the helpful folks at the Albert Whitman booth at ALA Midwinter in January. I had to see the newest books in each of these series for myself! And as I waxed eloquent over the virtues of these great little series, one gentleman managed to hook me up with some books to giveaway here at Redeemed Reader. I met Jacqueline Jules (author of the first series featured), and the Freddie books we're giving away are autographed! See the green text at the bottom of the post for more details.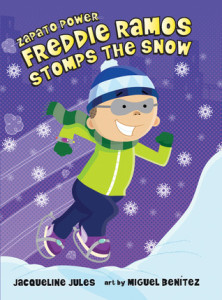 Zapato Power! (a series about Freddie Ramos) by Jacqueline Jules and illustrated by Miguel Benitez. Albert Whitman. Age/interest level: 4-8.
A sweet series about a young boy and his mother who struggle to make ends meet (his father died while on deployment), the Zapato Power books center around Freddie's super amazing running speed when he's wearing his special zapatos. Freddie solves small mysteries and problems using his zapato power and running faster even than the local train. How many children dream of having a super power? (I know mine do!) Occasional Spanish words are sprinkled throughout quite naturally, but the illustrations are fairly generic in terms of ethnicity. This series is a welcome addition to the world of transitional chapter books (often white and/or female). I have not read all of them, but the ones I've read have been well written and are well suited to young precocious readers (particularly if you have a 4-6 year-old who is moving into this stage of reading and isn't mature enough for more complex plots and themes).
Freddie Ramos Takes Off (2010) **a giveaway title**
Freddie Ramos Springs Into Action (2010) **giveaway title**
Freddie Ramos Zooms to the Rescue (2011)
Freddie Ramos Makes a Splash (2012)
Freddie Ramos Stomps the Snow (2014)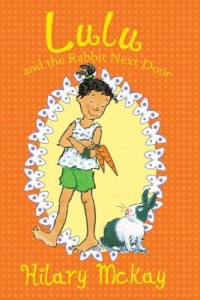 Lulu Series by Hilary McKay. Albert Whitman. Age/interest level: 6-9.
Lulu* is one of my all-time favorite chapter book characters. She's the kind of girl I'd love for my own daughter to have as a friend and is definitely a favorite book friend of ours. Lulu is resourceful, childlike, concerned about animals, and struggles with obeying her parents. She is close with her parents and also with her cousin Mellie. The books each feature an animal-related adventure in which Lulu is trying to save an animal with her cousin Mellie's help. Humor, early elementary level adventure, and consequences for Lulu's actions (both her responsible actions and irresponsible) make these books a perfect fit for young readers transitioning from the easy reader stage to longer chapter books. Illustrations are delightful but only every few pages. In general, the Lulu books are a bit more complex than the Freddie books. Both boys and girls will enjoy these, but young girls who have a bleeding heart for animal rescue will especially enjoy them. The books were originally published in England and are steadily making their way across the pond (aside from the first book and the last in the list below, the order below may be slightly off). I highly recommend these! *This Lulu is a very different character than the Lulu in the Viorst books–i.e. Lulu Walks the Dogs.

Lulu and the Duck in the Park (2011)
Lulu and the Dog from the Sea (2011)
Lulu and the Hedgehog in the Rain (2012)
Lulu and the Cat in the Bag (2013)
Lulu and the Hamster in the Night (2013)
Lulu and the Rabbit Next Door (2014)
Other newcomers to the transitional chapter book scene include Jasper John Dooley, Anna Hibiscus, and the No. 1 Car Spotter. Search for their names in your local library and take home some more treasures. These are just the kinds of books to "strew" about for young readers to discover. See also our tips on nurturing a young reader's taste, Janie's review of The Year of Billy Miller (2014 Newbery Honor early chapter book), and some funny detective books for young readers.
For a chance to win the Freddie Ramos books, leave a comment below telling us your favorite chapter book series or character!

Giveaway closes Saturday night at midnight EST

. 

Giveaway now closed. Thanks to those who entered!



Reading Ahead for You
Reviews and Resources Weekly in Your Inbox