Paperboy, by Vince Vawter.   Delacorte, 2013m 224 pages.  Age/interest level: 10-14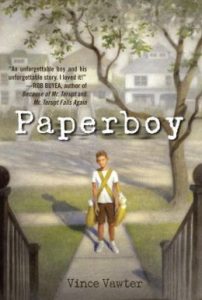 "I'm typing about the stabbing for a good reason.  I can't talk."  Life is challenging when you stutter so badly you can only communicate in spurts.  Our hero–whom we know at first only as Little Man, the fond name the family housekeeper gave him–realizes he's going to have to communicate to some extent when he takes over his best friend's paper route for a month during the summer.  Little Man has a great throwing arm, so delivering the papers is not a problem.  But collecting for them is a problem, and he approaches his first collection Saturday with dread.  Of course he doesn't know how the summer will change him through his acquaintance with Mrs. Worthington, the sultry redhead, and Mr. Spiro, the adventurous bibliophile.  Both will do their part to push him out of his comfort zone, but he'll be most severely tested by a threat to his beloved Mam.
Three things I really like about this book: first, complete empathy with the character's speech impediment, which was the author's also.  I gained insight about this difficulty that I'd never considered before.  Imagine viewing consonants as friendly or unfriendly–some you can handle with a little preparation, but others are traps.  He shares the "gentle air" trick, by which he tries to sneak up on a word with a soft hissing sound: "s-s-s-s."  He also hates commas, so there are none.  No semicolons, dashes or quotation marks either, and  after awhile you don't notice.  I like how some things are left unexplained, exactly as an eleven-year-old boy growing up in early-sixties Memphis would overlook or bypass what he doesn't understand.  And I like how religion is handled, from honest doubts to cheerful agnosticism to rock-solid faith.
Mrs. Worthington is, as I mentioned sultry, and Little Man develops a boyish crush on her.  Her character may make parents a little nervous, but she earns our sympathy.  The word "bitch" is used twice, and "hell" once, in realistic (not gratuitous) circumstances.  Some themes are introduced too late and not developed fully, but the main character is as rounded as he can be, and other characters are equally memorable.
Worldview/moral value: 4
Literary value: 4.5
Reviewers have compared Paperboy to To Kill a Mockingbird.  Here are Emily's thoughts on the latter.  For more about the segregated south, see our reviews of We've Got a Job, The Watsons Go to Birmingham–1963, and Glory Be.
Support our writers and help keep Redeemed Reader ad-free.