In this digital world of ours, I can post this blog entry "on" Labor Day without having to do any work on Labor Day: I'm typing this a few days ahead, will schedule it to post right on time, our posts are automatically tweeted, …. Ironic, isn't it?
Work: Is it the problem or the solution?
"Work" in and of itself is not the burdensome thing we make it out to be. Sure, I'm as thankful as any other American when Labor Day rolls around; it's a chance to catch my breath from the hectic first weeks of school if nothing else. But we were designed to work. We humans were given dominion over the rest of this created world and called to go forth, multiple, and subdue the earth (this is "work" in its original context). Alas, for the fall. Now we must strive harder, laboring in a fallen world with other sinful humans. It's important to recognize this distinction–work in and of itself is not the problem. (In fact, Scripture has plenty to say about laziness!) Our work here on earth may not be as rewarding as it might have been pre-fall, but it is still rewarding. And when work-related issues crop up, it's important to try to distinguish the real issues at hand instead of give in the current American way: complain, complain, complain.
Enter: Children's Literature!
One strategy to use when discussing with your children the intrinsic value of hard work and diligent pursuit of a calling or goal is to point out the myriad examples we see in literature of children doing just this: working hard and diligently in pursuit of their goals or calling. Historically, children's literature has abounded with examples. My children and I are listening to The Black Stallion right now, and Alec worked HARD, both to train the stallion as well as to earn money with which to care for his horse. The Five Little Peppers, Little House on the Prairie, Misty of Chincoteague, The Sign of the Beaver, …. so many more come to mind.
But there some great newer books to look out for! The picture books listed below all examine work-related ideas in age appropriate ways. If you're interested in pursuing these ideas with your children, then I highly recommend them.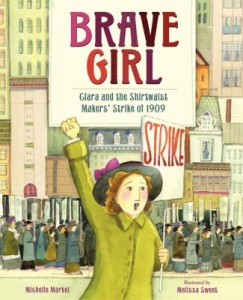 Brave Girl: Clara and the Shirtwaist Makers' Strike of 1909. Michelle Markel, author. Melissa Sweet, illustrator. Balzer and Bray, 2013. 32 pps. Worldview rating: 4 (out of 5); Literary Rating: 5 (out of 5).
Melissa Sweet is an amazingly talented illustrator, and her illustrations really bring this book to life. Markel tells the story of this famous strike in age appropriate text, but Sweet adds extra interest by sewing her illustrations to fabric before having the images printed. Her use of perspective is also top notch. A strong bias towards Unions is present, but that could simply be our 21st century eyes looking back; working conditions are SO much better now than they were a century ago, particularly for women and young girls. It's important to remember that work is valuable, but so is human dignity in that work.
All in all, this is a solid informational text that will work well for elementary school students–an author's note at the end provides more information as does the selected bibliography and resources for further research listed at the back. This is a very interesting book to use for discussions on the value of work and the importance of the people doing that work.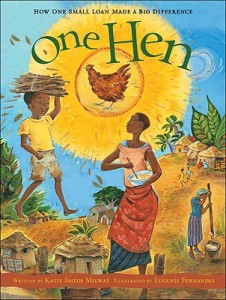 One Hen: How One Small Loan Made a Big Difference. Katie Smith Milway, author. Eugenie Fernandez, illustrator. Kids Can Press, 2008. 32 pps. Worldview rating: 4.5 (out of 5); Literature Rating: 4 (out of 5)
Many kids hatch entrepreneurial ideas when they are young: lemonade stands, babysitting, cottage industries revolving around arts and crafts. In One Hen, a boy's entrepreneurial idea not only ends up paving the way for his own future but ends up providing jobs for many in his village when he grows up. Kojo gets a loan from his mother to buy one hen. He carefully saves the hen's eggs to sell at the market until he not only pays his loan back but is able to buy another hen. He continues caring for the hens, selling their eggs, and buying more hens. Eventually, he owns the largest poultry farm in Ghana (and in West Africa)! One Hen is based on the true story of Kwabena Darko, and it's a terrific way to illustrate the value of consistent hard work (not to mention a terrific economics lesson). There is more information on the microloan system in the back of the book as well as organizations that participate in this type of venture.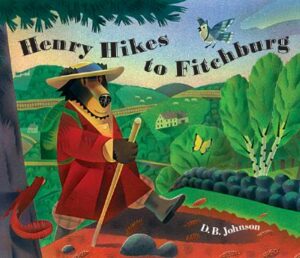 Henry Hikes to Fitchburg. D. B. Johnson, author and illustrator. Sandpiper, 2006. 32 pps.
Henry is an allusion to Henry Thoreau, and this picture book references a passage from Thoreau's Walden. Henry and his friend both want to go to a city some thirty miles distant. Henry chooses to walk to the city; his friend chooses to work to earn enough money to pay for transportation there. As you might imagine, the two have very different days. The illustrations add much detail to the storyline in the text. Their experiences beg the question: is working hard in order to pay someone else to do something for you worth it? Always? Sometimes? When is experience its own reward?
There are lots of other titles in this vein–what titles can YOU think of that relate to work and its attendant issues?
While you're pondering those titles, you might also want to check out our previous Labor Day lineups in which Emily muses over the idea of calling (and books to get your kids working) and Janie's examination of the Heart of a Shepherd in her discussion of calling and work. In addition, check out our lineup of picture book biographies from earlier this summer. Picture book biographies often feature stellar examples of folks who worked hard to pursue their calling (even if they don't describe it that way); of note is the Helen Keller biography in that post which brings up similar work-issues as the

Brave Girl

book mentioned above. For older readers, check out the story of Gabby Douglas's hard work before she won her Olympic Gold! Janie also recently discussed some novels about getting rich quick.

 Book cover images from IndieBound
Support our writers and help keep Redeemed Reader ad-free.