A Whole Lot of Lucky, by Danette Haworth.  Walker Books, 2013, 288 pages.  Age/interest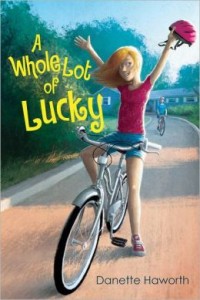 level: 9-13
Hailee Richardson has plenty to complain about—her screechy old boys' bike, her baby sister who gobbles up attention, getting snubbed by the cool kids at school—but when her parents win $3 million from a lottery ticket, all that changes.  Or not.  Some outward changes are pretty significant, such as Hailee's parents enrolling her in a private girls' school.  Inside, though, Hailee hasn't changed enough.  So it's earth-shaking when Nikki, who's pretty and cool as well as rich, takes an interest in her, but friendship with Nikki will come at a cost, and the cost might include some old friends.
The lottery angle doesn't play as big a role in this story as I expected.  Aside from a new bike and an impromptu vacation to Daytona (and the new school of course), the family's sudden wealth fades out of focus at times.  Hailee's parents are churchgoing folks who want to be good stewards of their windfall, meaning that Hailee is often left wondering why they can't spend a little more money: It's hard to explain how we won three million dollars but we aren't rich.  Life seems to go on normally, with none of the legions of new best friends and incessant requests for money that make life miserable for every actual lottery winner.  The story becomes a rather standard fish-out-of-water scenario distinguished by Christian overtones and the author's distinctive writing style.  She is strong on the roller-coaster emotions of middle-school life (Nobody tells you the rules, Hailee realizes), with its imperceptible ranking systems, but the story meanders as she picks up plot points and fiddles around with them before setting them aside.  Still, this is a fun book with a solid moral core and a likeable, fallible main character.
Worldview/moral value: 4.5 (out of 5)

Literary value: 3.5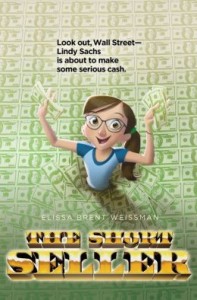 The Short Seller, by Elissa Brent Weissman.  Atheneum, 2013, 251 pages.  Age/interest level: 10-14
Lindy (Melinda) Sachs has a pretty good life going for her: a best friend, a potential boyfriend, good relations with her parents and older sister, a comfortable lifestyle, successful school career—until a stretch of unusual fatigue leads to a diagnosis of mononucleosis.  Stuck at home for weeks, Lindy discovers a new hobby when her dad asks her to do some online stock-trading for him (he's not allowed to wheel and deal from his work computer).  Making money with a few key clicks has a certain fascination, so Dad gives her $100 to play with.  With the help of books like Stock Trading for Dummies, Lindy is soon on her way to becoming a successful day-trader at the age of twelve.  Of course, some problem has to rear its ugly head, and in this case it's greed and the sneak peek she took at her Dad's portfolio.  Hijinks ensue, along with some serious legal problems that don't seem to carry their full weight in the narrative.
Though no great shakes as literature, The Short Seller is a pleasant introduction to the world of online investing, that might shed some light on the news the next time an investment banker or CEO is accused of insider trading.  Chapter titles like "Uptick," "Downtick," "Initial Public Offering," and "Long and Short" add to the ambiance, though none of these terms are explained (the title concept, however, is probably as clear as any writer can make something so inherently muddled).  The novel could be seen as a cautionary tale or as an invitation to jump in and swim with the sharks.  More the former, but if your kid asks you for $100 to invest online after reading this book, I'd suggest the answer be No.
Worldview/moral value: 4

Literary value: 3
Lawn Boy is another novel about the stock market, with a much happier—and less realistic—result.  For non-fictional books about money, business, and finance, see our roundup here, as well as Steve Jobs biographies.  For more novels about honest labor, see our Labor Day post from a couple of years ago (with links).
More than 75 books for children and teens, all about islands, oceans, and more. Bonus: get a free hand-drawn reading tracker!
Reading Ahead for You
Reviews and Resources Weekly in Your Inbox