Introduction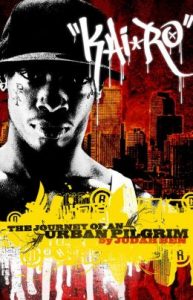 There are very few modern books that I see as really significant.  But I see the Kai' Ro series–an urban interpretation of Pilgrim's Progress–by youth minister, Judah Ben, as one of those series that may actually help change the landscape of Christian publishing.  How you ask?  His book brings the Christian rap movement–a kind of urban Reformation if you will–into the printed word, and in so doing, can be used to bring both the gospel and the love of reading to a group of young adults who might not otherwise get either. 
However, even if its impact is more moderate than I would hope in terms of sparking other books for this target audience, as you'll hear from him today, Kai'Ro is already changing the lives of individuals.  He is inspiring drug users and pushers to walk away from their culture of death and disease, for instance.
Does that whet your appetite to know more about him and this unique series?  Let's hear from the author himself then!
The Interview
1.  What gave you the idea for this interpretation of Pilgrim's Progress?
The book and the idea were initially birthed out of a need for quality urban Bible curriculum at my own school, Restoration Academy.  I've taught Bible in an urban setting for almost twenty years now, and in my opinion, there is hardly any solid curricular material that is both theologically sound and relevant to urban youth.  Most of the time I had to create my own curriculum from scratch or adapt someone else's material to make it interesting to my students.  I wanted to design something that kids could connect with and at the same actually enjoy reading.  Once you find a tool like that, it becomes that much easier to effectively use that tool to point your kids to Jesus.
John Bunyan's allegory, The Pilgrim's Progress, is a timeless classic. I'm a huge fan of allegory, metaphor and parables.  In fact, I think we can witness parables everyday just by looking out our windows and watching what's going on in the streets around us.  Our everyday decisions, and the decisions of others lead to a variety of effects, and those effects are incredibly instructive and enlightening if we have the eyes to see.  
I felt like Bunyan's work, even though it was written hundreds of years ago, could transition seamlessly into the urban landscape.  Young people today still like stories.  I think they resonate with the idea that life is a journey and a grand experience.    Christian's travels in Bunyan's book is one of the best stories about the life-long journey of sanctification and discipleship that I've ever read.  Probably around half of the material in Kai'Ro: The Journey of an Urban Pilgrim is an urban retelling of Bunyan's original work.  The rest of it is original.  However, the sequel (Kai'Ro Returns) is very different from Pilgrim's Progress and is a unique allegory unto itself. It also chronicles the journey of Kai'Ro's girlfriend, Evangeline, as she sets out on her own journey to the Cross.

2.  Who is reading your book?  Do you have others that give you a sense of who it is impacting?
I have discovered that the books are being read by a surprisingly diverse amount of readers.  This encourages me enormously.  I have received a lot of feedback from urban youth who have said that Kai'Ro's journey parallels very closely with their own.  His struggles and victories strike a deep chord with their own lives.  One young man told me recently that reading Kai'Ro inspired him to quit the dope game.  He said, "If Kai'Ro could make it then I knew that I could too."
I have received several hand-written letters from prisoners around the country who are reading the book.  One of them, from Pennsylvania, told me that the book inspired him to quit the gang that he was in.  He  was encouraging his fellow inmates to read the book because it would change their lives.
A ministry on an Indian reservation in Washington state is using the books and said that the kids there are thoroughly enjoying them.  And just a week ago I was told that a bunch of white college kids from a campus ministry at Clemson University were hanging out reading Kai'Ro at the beach during their spring break. The feedback I've received is making it clear that Kai'Ro and his story appeal to a wide variety of believers. 

3.  Christian rap has been growing in its influence (as documented in a recent World magazine article).  I noticed you include a testimonial from Christian rapper Lecrae in your latest book.  Do you see Kai' Ro's story as riding this wave a little or perhaps tapping into some of the same cultural influences?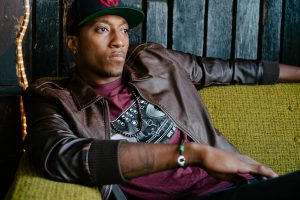 I've been a huge Hip Hop fan for over twenty years now, so in some respects I've been riding this wave since I was a teenager.  My writing is deeply influenced by the music of Lecrae and others.  I think the rap wave in general has been rising high for almost three decades now.
With that said, Christian rap has recently achieved new heights with the success of Lecrae and other artists who are gaining credibility and inroads with a secular audience. Hip Hop is the top selling music in the world now.  As a believer, I think we'd be remiss not to use this cultural and musical phenomenon to our advantage for redemptive purposes.  
I see the Kai'Ro series as another artistic attempt to reach the Hip Hop culture and those affected by this culture with the truth of Jesus Christ.  The books are primarily geared towards this audience with the setting, slang and vernacular.  In Kai'Ro Returns, Kai'Ro even engages in a rap battle against some of the thugs in the City of Doom thanks to the lyrical contributions of my friend Sho Baraka.  I really see these books as a complementary piece to what Christian rap artists are seeking to do to reach unbelievers and to strengthen current believers.
4.  Do you have any plans for further books that target the same audience?  Do you see a need for other similar books?
At the very least I see the Kai'Ro series being a trilogy.  There are so many more issues in the urban landscape to discuss and to analyze from a biblical lens, and so it's possible that the the series could extend beyond three books.  I have a pretty clear picture of where I want to go with the next book if the Lord provides the opportunity.  Because I'm deeply invested and live in an urban community I think most of my writing from here on out will be directed primarily towards the same target audience.  
I believe if you were to ask most of your front-line urban youth workers around the country, they would all tell you in unison that they feel under-resourced when it comes to having quality literature and curriculum to reach their young people.  So there is a tremendous need.    I'm encouraged that Moody Urban is putting together some solid resources.  I'm also grateful for organizations like Reach Life and the materials that they're creating.  Our urban workers are really in a desperate no-holds-barred struggle to reach our cities for Jesus and they need additional curricular weapons and resources to be effective.

5.  And one final question: Why do you think this book is relevant, even for people who may not be familiar with Kai' Ro's culture?
Though Kai'Ro's culture is urban and unfamiliar to some, he's just an average dude, and his struggles and challenges are very relatable. As believers most of us resonate with the enormous challenges that come with following Jesus as His disciples.  There are so many issues that we wrestle with – from guilty consciences, to hidden sin, to lustful appetites, to external persecution, and cultural ridicule.  But the books also address other topics such as racial reconciliation, broken homes, substance abuse, dualistic living, and spiritual warfare.   Jesus' call to us to pick up our cross and follow Him, in many respects is a call to loneliness.  To take those words seriously might mean saying goodbye to fellow believers who would rather wallow in a life of mediocrity then follow Christ further down the Heavenly Highway.  This is much of Kai'Ro's experience; in his decision to follow Jesus he has to say "goodbye" to most of the world that raised him.   
On the flip side I think his passion for a relationship with the King is contagious.  I want to be Kai'Ro.  He's a protagonist, that despite all of his own brokenness and failures, is very inspiring.  He has a fire of hope and life and purpose burning in him that I think will challenge and ignite something special in any reader.  Protagonists in movies and literature are very powerful.  Intuitively and instinctually we want to be like them even if we can't articulate why.  I think Kai'Ro has potential to emerge as an icon for discipleship that transcends the urban milieu.  Paul once told the Corinthian church in I Corinthians 11:1, "Follow me, as I follow Christ."  I think the Kai'Ro books offer that same exhortation to any reader regardless of their background.  
Thanks so much, Judah!  And thanks for the work you're doing on behalf of Christ, taking his word to His people in places that others may not be able to go. 
I hope you've appreciated this interview with Judah.  If you'd like to know more about the publishing arm at Moody behind this book, you can check out the Moody Urban website.  And if you know young people who are already listening to Christian rap, this might actually be a great graduation gift!  You can also follow Judah on Twitter if you're interested in his work.
Reading Ahead for You
Reviews and Resources Weekly in Your Inbox