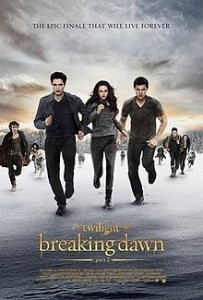 Has the sun finally set on Twilight?  When Stephanie Meyer published The Twilight Saga in 2005, I expect most people were taken aback at the warm welcome it received.  Sure, the Harry Potter franchise had shown there was plenty of teenage interest in traditionally dark/occult topics, albeit in a kinder, gentler, moral package.  But $2.5 billion dollars later (and that's just the first four movies), with spinoffs like The Vampire Diaries, HBO's True Blood, and loads of fan fiction riding in its wake, Twilight has gone well beyond being just a film.  It's become a touchstone in media history.
Janie has actually written about Twilight in Looking for Love: The Paranormal Teen Romance.  I think she's right to point out that the story is in one sense not all that different from other love stories throughout history.  That's the biggest hook after all: a love story that makes young girls (and yes, sometimes boys) feel again the way they did when they first saw Disney's Cinderella.
On the other hand, it is different, too.  Because, well, it's not just about Cinderella, is it?  It's about vampires, and the introduction of that subject brings its own centuries-old baggage, an aspect of the story that I'm sure Janie would agree is worth some consideration.
So, toward that end, I recently invited a couple of fellow movie-buffs to help me think through not just Twilight, but the broader trend toward dark and occult-themed literature and movies for young adults.
At the roundtable this week:
Thomas Purifoy of Compass Cinema.  Thomas is a producer, writer, and director for Compass Cinema who has worked on numerous projects, including Modern Parables and Seek Social Justice (a collaboration with the Heritage Foundation).  Thomas is a Christian who brings insight not only as a filmmaker, but as a parent, homeschool dad, former Director of a classical school in Lyons, France, and a former U.S. Naval Officer.  My readers might be especially interested in his Visual Latin course, as well as his new film-making course perfect for homeschoolers and young adults that combines "the basics of filmmaking and early film history."
Emily Whitten, Redeemedreader cofounder, WORLD movie reviewer, and (bwahaha), your hostess for the evening.  If you haven't met me before, I'm a homeschool mom of two girls, a former kids' book editor, and I read a lot of books.
THE PODCAST
Beginning with a short history of horror and dark films, we discuss the trends and impact of dark media for kids today.
[powerpress]
FURTHER READING
As you might have guessed, this isn't a new topic for RR.  One of the founding tenets of Redeemedreader is that we don't want to just ignore the darkness in our culture.  We'd like to hold a candle to it.  Toward that end, see my review of The Girl with the Dragon Tatoo, or read our discussion of evil in this week's Hobbit Read Along.  Or see Janie's Dystopian Download or her interview with Wall Street Journal book reviewer, Megan Cox Gurdon, on how the subject touched her last year.
AND…
Here's one last fun thing.  I thought some of you might enjoy watching Thomas Purifoy's video on his new filmmaking class.  FYI, it's roughly half-price this October, so some of you might want to pick it up here for an early Christmas present!
How about you?  Do you think Twilight is too dark for kids or is it something that's only a problem if taken too seriously?  How do you think it has changed media for kids?  (And don't you think Thomas's curriculum looks so fun?)