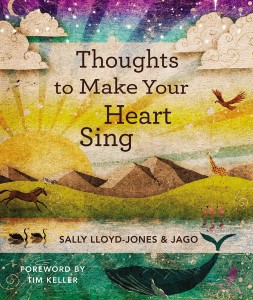 This October, the team that brought you The Jesus Storybook Bible released a unique new book, Thoughts to Make Your Heart Sing.  At 224 pages, it's surprisingly small and compact, but author Sally Lloyd Jones and illustrator Jago have packed quite a punch inside.  Each spread contains a meditation complemented by one of Jago's brilliant illustrations, and because they are not sequential, it functions a lot like a kids' coffee table book–a book one can pick up and read for a moment or two, and come away with a little nugget of God's Word to savor for the day.
You might think I'm describing a kids' devotional.  But Sally says she doesn't use that word for a reason.  She felt kids might be put off by it; they might see it as something they have to read instead of something they want to read.  And that's really the main goal here.  To get kids to think about God's word for pleasure, not just as an assignment in Sunday School or Bible class.  It supposed to whet their appetite for thinking God's thoughts after Him, and to help them apply the balm of the gospel to their own lives in fresh ways, day by day.  And I think that by and large, the book does just that.
Janie has looked at a number of story Bibles and kids' devotionals this week, and one of her main criticisms is that many such books, while well-intentioned, actually end up obscuring the meaning of Biblical texts.  Even if they avoid the pitfalls of something like The Action Bible Devotional and get the author's intention right, story Bibles like the Jesus Calling Bible Storybook use the Biblical text as a launch pad rather than an arrow to the heart.  Kids are taught to start with a Bible passage, and then use it as a spring board for personal messages from God which may or may not have anything to do with text itself.  I absolutely don't want to belittle any attempt to get kids to pray on their own or to develop an expectation that God will speak to them personally and answer their prayers.  I am eager to admit that such an emphasis is sorely lacking in many Christian homes and churches.
Even so, just getting kids to read Scripture isn't enough.  Consider for a moment that there are between 3,000 and 5,000 cults in America right now, and many caught up in them believe in Scripture plus some direct revelation from God.  Sloppy Biblical interpretation plus new revelation are the rocks upon which untold millions are being dashed.  Add to that perhaps the most prevalent deception of our day, postmodernism, which denies the authority of any text over us, especially God's Word, exalting instead personal experience which inevitably leads to a new gospel (and one that isn't any gospel at all).   In such a perilous context, we need to be very, very careful how we teach our kids to seek the Lord's Word and His presence.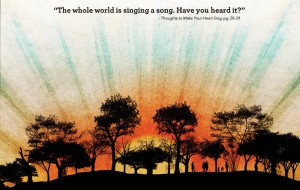 Which brings me to one reason I'm so pleased with a seemingly minor aspect of Thoughts to Make Your Heart Sing.  Unlike the traditional devotional format, the Scripture verse is placed at the bottom of the page rather than the top.  That means, kids are led not out and away from Scripture into Sally's thoughts and their own.  But rather, she begins with a meditation, a story or metaphor that leads kids from their own contexts down into the Word.   Thus, like the chorus of a song, it's the Word that rings loudest and longest in the reader's mind, inviting him or her back to hear and savor God's voice–not Sally's or even the reader's.  And thankfully, a mature view of the message of the Bible permeates the entire text, including quotes from Charles Spurgeon, C.S. Lewis, and other greats of the Christian faith.
Another easy trap for story Bible publishers is to dumb down the illustrations until nothing of God's grandeur and majesty come across.  Judging by the kids' sections at major bookstores, Christianity is just a fuzzy, milk-toast religion in which sweet, cuddly sheep, oblivious to real life, sit around getting hugs all day from a guy in a white robe.  In contrast to that, Jago's illustrations are child-friendly without belittling kids.  The illustrations themselves are many layered, with rich and subtle hues, sometimes portraying a scene that is almost a literal translation of the text.  Other times, Jago puts his own spin on the metaphor, inviting the reader to another layer of imagination beyond what Sally has provided.  Great art doesn't have to be straight-laced, either: there is so much humor and whimsy that comes across (see Helpless in p. 93), but overall, the tone is serious and so takes its readers–and its subject–seriously.  I can't think of another story Bible or devotional, besides their previous offering The Jesus Storybook Bible, that portrays its subject matter in such a compelling yet kid-friendly way.
Because of the serious presentation, this is a book that will not only serve kids but adults as well.  In our recent interview, Sally said that she had received numerous stories of adults being impacted by The Jesus Storybook Bible.  Tim Keller of Redeemer Presbyterian in New York also said that he often gives copies of the book to adults as a gift book.  I expect this will be used in much the same way.  There is always the danger of using a tool like this as a replacement for the reading of Scripture itself, and that's something we as Christians are going to have to guard against more and more in our culture.  In fact, Janie and I have spent a lot of time and energy trying to help parents and kids get into God's Word directly, without the aid of a devotional like this one.  (See our Bible Reading Challenge.)
But if we use this book not in lieu of Scripture study but as a beautiful, artistic expression of who the Lord is and who he's making us, it may do us a world of good.  If we use it as a witness to non-Christians, a starting point for kids and adults who won't or can't read the Scripture on their own, its value only increases.  And if it helps young people and adults alike see their need for God's Word, not above the Scriptures but through them, I'd say that's something worth singing about.
For more about the author, Sally Lloyd Jones, see our podcast interview with Sally.  Also see Janie's review of several popular kids' devotionals, as well as Emily's post on How to Choose a Story Bible.
QUESTION: Does this devotional appeal to you?  Do you think it would be more or less helpful to your kids than a classic like Leading Little Ones to God?
Reading Ahead for You
Reviews and Resources Weekly in Your Inbox