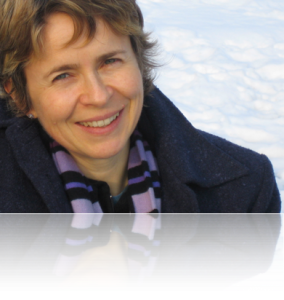 The Jesus Storybook Bible by Sally Lloyd Jones is a staple among Christian parents these days who want to help introduce kids to the Bible in a way that focuses on Christ.  Not only is it theologically rich, but the illustrations by Jago are enticing for both children and adults, combining reverence, tenderness and even humor.
If you appreciate great kids' literature–whether as a parent, grandparent, or literature-lover–we have a special treat for you today.  Sallys new kids' book with Jago, Thoughts to Make Your Heart Sing, just came out, and Janie and I had the opportunity to talk to her about it last week.
In the interview, she describes what makes this new book special, and how she tries to write books that little ones will enjoy reading more than chewing.  (I have to confess, my favorite part of the interview was when a buzzer went off in her apartment and the surprise and chagrin that followed.  I know I should have cut it, but I just found it so endearing.)
So, hope you guys enjoy meeting Sally!  Oh, did I mention she has a lovely British accent?  And that we asked her to read one of the stories or meditations of the new book?  That's worth the listen in itself!
[powerpress]
Watch for our review of Sally's new book later in the week.  And if you've got more time on your hands, you might want to check out our summer post on Christian Books for Burgeoning Readers, Janie's review of the popular Brick Bible for kids, and a list of our favorite Bible-related gifts for kids.  If you want to deeper into the content of Sally's Jesus Storybook Bible, check out my series on Christ in Literature.
Giveaway
We couldn't talk about such a wonderful resource without giving one away.  Tell us what you like about Sally's work, or perhaps what you think your kids would enjoy about her new book.  At the end of the week, we'll send one of you guys a hardback copy for your very own!
Reading Ahead for You
Reviews and Resources Weekly in Your Inbox