To our children it's already history, but to us it seems like "only yesterday."  Too soon, really, to come to an informed conclusion about what it all meant and whether the response was justified or not.  Or even whether it "changed America forever," as every commentator claimed at the time.  But it happened, we know who to blame, and we remember what we felt.  How do we communicate it to the kids?  (Scroll to the end for some suggestions for adults!)
14 Cows for America, by Carmen Agra Deedy, illustrated by Thomas Gonzales.  Peachtree, 2009, 32 pages.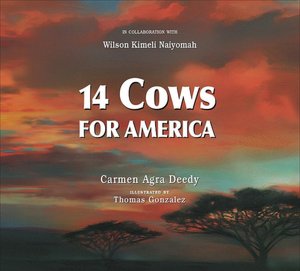 Age/interest level: 4-8.
Wilson Kimeli Kaiyomah is returning to his home village in Kenya as this story opens.  He is a Maasai, and though he's been studying medicine in New York City, his heart still beats to the rhythm of his cattle-herding people.  "A child asks if he has brought any stories.  He nods.  He has brought with him one story.  It has burned a hole in his heart."  Kimeli was in New York the day the planes hit, and now, three seasons later, his people are hearing about it for the first time.  The event is old, their shock and sorrow are brand-new.  Kemeli has returned in order to offer a blessing to America, something he learned from the elders in his village: "To heal a sorrowing heart, give something that is dear to your own."  He has saved enough money to buy a cow—the most valuable possession in that culture—and now he wants to purchase it for America.  What happens next should bring a lump to any reader's throat, helped along by the stunning illustrations.  By no means is it a complete comment on 9/11, and it isn't meant to be taken that way.  So how to take it?  Some readers may over-sentimentalize it, and others may reject it as sentimentalism, but let's walk between those opposites:
Because there is no nation so powerful it cannot be wounded,/Nor a people so small they cannot offer mighty comfort.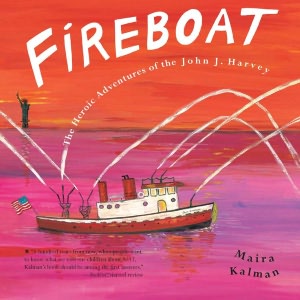 Fireboat: The Heroic Adventures of the John J. Harvey, written and illustrated by Maira Kalman.  Putnam, 38 pages.  Age/interest level: 3-6.
The story begins way back in 1931, while the Empire state building was going up and jazz clubs were in full swing, and the John J. Harvey fireboat was launched into New York harbor to begin many years of service.  In 1995 the boat was retired and headed for the scrapheap when a band of enthusiasts bought her and fixed her up to run again—even though they never expected she would fight fires.  "But then on September 11, 2001, something so huge and horrible happened that the whole world shook."  The Harvey crew of amateurs quickly assembled and reported for duty, thinking they could ferry people from lower Manhattan.  But the water pipes under the Trade Center were broken, making fire trucks useless.  So the Harvey joined the two remaining fire boats to pump water out of the harbor.  After four days, the fire was under control.  "Finally, it was time for the Harvey to go home.  Everyone on the boat had never seen anything so terrible.  And they had never felt so proud."  That sums up the thrill and horror of that day as well as anything I've read, and the story of a gallant little boat frames it in a way that little children can get their thoughts around.  Maira Kalman's exuberant brushwork pictures the chaos as a bouquet of exploding paint splashes and strokes: the double-page spread of the crashed buildings is especially impressive (though the people figures should be smaller for a better sense of scale).  Telling a big story through a small focus works for kids, who wouldn't be able to grasp it any other way.
The Little Chapel that Stood, by A. B. Curtis, illustrated by Mirto Golino.  Old Castle Publishing, 2003, 40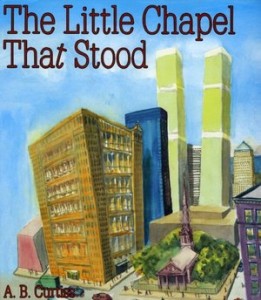 pages.  Age/interest level: 6-8.
"Around the chapel of Old St. Paul/Blow the dancing leaves of the coming fall./In the morning breeze they leap and fly/beneath the towers that scrape the sky."  St. Paul's Chapel is the oldest church structure in Manhattan; George Washington worshipped there while serving as President.  The building has survived fires, storms, and surges, and on 9/11/01 it survived the collapse, practically next door, of the tallest buildings in New York.  Though smoke and dust damaged the organ (which has since been repaired), the Chapel itself was miraculously unharmed.  The introduction poignantly tells how firemen "hung their shoes on the iron fence as they pulled on their boots.  Many brave firemen never returned to get their shoes."  The verse that tells this story is mostly pedestrian and the artwork is only adequate, but the story itself needs to be told–for its loaded symbolism, if nothing else.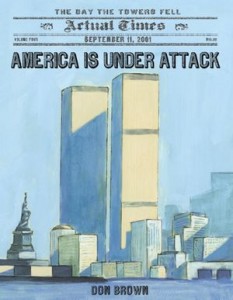 America Is Under Attack (Actual Times Series), written and illustrated by Don Brown.  Flash Point (Roaring Book Press), 2011, 64 pages.  Age/interest level: 6-up.
"A bright morning sun lit a cloudless blue sky.  America started its day.  Highways filled with traffic.  Railroads rumbled with trains.  Airports roared with jetliners.  Among the hundreds of planes rising into that flawless blue sky were two from Boston, one from Newark, New Jersey, and one from Washington D. C.  Among their ordinary passengers were nineteen deadly men."  The author wastes no words setting the scene, but we get the picture, and the story continues with indelible snapshots, snatches of actual dialogue, and personal vignettes.  Two fire-fighter brothers share a moment in the North Tower lobby before parting company forever.  Firemen trotting up the thousand-foot stairwell carrying 80 pounds of gear have to pause at every tenth floor just to catch a breath.  Line-and-wash drawings capture faces staring up in horror.  Without gore or sensationalism, the author communicates the personal cost of that day (including the 15 residents of his home town, to whom this book is dedicated).  A historical note at the end tallies the casualties and summarizes America's immediate response.  This is probably the best book I've seen for conveying a sense of shock and immediacy to 9/11.
I Survived the Attacks of September 11, 2001, by Lauren Tarshis, Scholastic: 2012, 112 pages.  Age/interest level: 8-16.
"Eleven-year-old Lucas Calley wasn't supposed to be in Manhattan that day. His parents had no idea that he's caught a train into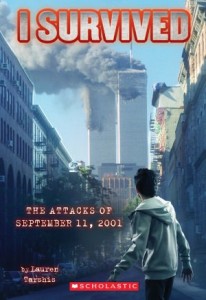 the city, that he was there, on the crowded sidewalk, looking up as it all began."  Lucas took a train instead of a school bus that morning because he had to talk to "Uncle" Benny, his dad's best friend who shared Lucas's love of football and had encouraged him to go out for the school team.  But now Lucas's parents were threatening to take him off the team, and he wasn't sure he could survive without football—that's why he has to talk to Benny.  Very soon, though, he's wondering if he can survive this day.  Because Benny happens to be a firefighter, just as Dad was before that terrible explosion . . . Well, there are perhaps one too many flashbacks before we get to the main plot thread, but after that the action moves fast and doesn't disappoint.
This title is part of the "I Survived" paperback series in the age category known as high-low: high interest level, low reading skills.  They are geared toward older, struggling readers: set in large type with fewer words on a page, but taking on more mature subjects than insomniac little badgers and frog-and-toad friendships.  I confess that I didn't get to read all the way to the end of this one, but I appreciated the strong family theme and manly role models.  Reluctant readers in your house, especially of the male variety, may enjoy other disasters in the series: I Survived the Bombing of pearl Harbor, the San Francisco Earthquake, the Sinking of the Titanic, Hurricane Katrina, and The Shark Attacks of 1916 (Shark attacks in 1916??  Cool!)
We Are America: A Tribute from the Heart, by Walter Dean Myers, illustrated by Christopher Myers.  HarperCollins, 2011, 37 pages.  Age/interest level: 12-up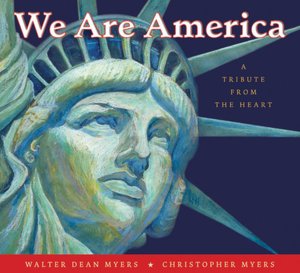 Walter Dean Myers is a three-time nominee for the National Book Award in children's literature, the winner of the first-ever Prinz Award for YA literature, and is currently the National Ambassador for Young People's Literature—in short, a heavy-hitter in his field.  We Are America is his first picture book, and first collaboration with his artist son, but his audience is not the usual picture-book crowd.  Myers made his name writing of conflicted, deeply troubled, victimized victimizers in the ghetto and the projects.  Patriotism was not part of his makeup: "I was simply a person born and raised in the US who took for granted the liberties and opportunities I found there."  But after the outpouring of grief and national assertion of 9/11, "I wanted more from myself.  It was no longer enough to just exercise my right to criticize both our history and our present state.  I needed to take responsibility for that history, our present, and our future."  He began rereading our founding documents and re-discovering "the passion in which our country was created."  Using those documents, as well as quotes from Puritans and native Americans and immigrants and former slaves, he frames a poetic narrative that attempts to embrace our declarations, contradictions, triumphs, and failures.  Both he and his son express their view through voices and individuals: famous people and obscure ones, quoted and pictures.  It makes a patchwork of verse and acrylic, as more and more people take hold of American ideals—factory works, civil rights protesters, Sons of Liberty.  Simply coming to America, voluntarily or not, places both opportunity and obligation on the individual soul.  It's up to the reader how well the Myerses succeed, but as the portrait of a "minority" person reacting to the attack on his country in a deeply personal way, it touches my heart.
For grownups, I haven't seen a good book-length treatment of what it all means for Christians, but Table Talk Magazine has made their tenth-anniversary issue available online, with commentary by R. C. Sproul and John McArthur, among others.   Karen Kingsbury wrote a series of 9/11 novels for the Christian market, but I haven't read them.  For a broader perspective, Joel C. Rosenberg looks to the Muslim world with his booklet, Inside the Revival: Good News and Changed Hearts Since 9/11.  God does have a way of bringing good out of bad, even though we may never know most of it in this world.  But some day we will.
More than 75 books for children and teens, all about islands, oceans, and more. Bonus: get a free hand-drawn reading tracker!
Reading Ahead for You
Reviews and Resources Weekly in Your Inbox