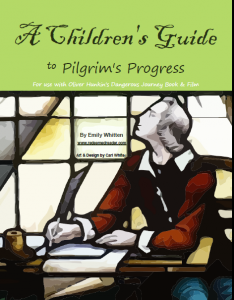 Pilgrim's Progress Party?
Next week, I've been asked to lead a Pilgrim's Progress event at a church in South Carolina.  One of our devoted readers thought it would be fun to invite parents and kids to their church for a night of games, treats, and crafts organized around Pilgrim's Progress.  Some of you may remember that Janie and I did a read-along of Pilgrim's Progress last October, and we developed a free ebook for families to use as a devotional in conjunction with Dangerous Journey by Oliver Hunkin.  (Includes coloring pages by our own Carl Dean White!  See below.)
This week, I'm working to condense that month-long devotional into a one-hour presentation.  For those of you who might like to host a similar event, say as a birthday party or a Reformation Day party, I'm attaching the plans below.  To give you a taste, though, parents and kids will be fighting dragons with inflatable swords, hawking their wares at Vanity Fair, and eating marshmallow Giant Eyes in Doubting Castle.  Lord willing, it will be a fun and spiritually "eye-opening" experience!
Your Child's 'Dangerous Journey'
In addition to the party, I'm planning to give a 15 minute presentation to the adults on how parents can shepherd their child's imagination.  Books and movies are a great blessing, and they can awaken your child to realities and adventures far beyond his horizon.  The stories that characterize our culture, however, are written by sinful people just like you and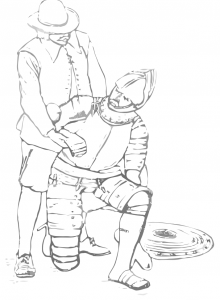 me, and therefore they contain pitfalls parents need to be aware of.  What are those pitfalls?  And what can parents do about them?
Over the next couple of weeks, I'll post the notes for my talk here.  Hopefully it will add up to a ten or fifteen minute crash course on parenting your child through his own 'Dangerous Journey' of the imagination and give you (and your child!) a few weapons to wield along the way.
The Download
CLICK HERE to get directions for holding your own Pilgrim's Progress party!
If you think this is something your church would be interested in putting on, I would be glad to advise or even make the trip to help.  Just drop me a line at emily@redeemedreader.com! 
Or if you have ideas for how I could make this better, I'm all ears!  I'd love to have some reader input for how to keep kids entertained while teaching them life lessons.

Support our writers and help keep Redeemed Reader ad-free.