"I just ordered Happy and Honey, Bob Books set 1, and the Starfall readers—books you recommended—for Lois's and my African-American great-grandson. Could you recommend an early reading Bible story book for 4-year-old African American boy on the south side of Chicago? We want him to get into the Bible, but obviously understandability is important –and good pictures. I was reading a Bible story book to Geoff's (our son) 6-year-old a couple of month's ago and Geoff said, "You can't really read those stories; he won't understand them. You have to re-tell them." It seems as if there are a million Bible Story books out there. Are there any good ones?"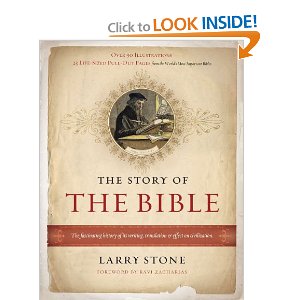 Last week, I got the above question from Larry Stone, author of The Story of the Bible: The Fascinating History of its Writing, Translation, and Effect on Civilization.  For those of you who don't know him, his book is an interesting resource for older kids in itself, as described by Amazon reviewer Lori Kasbeer:
"The Story of the Bible details the ways in which books in the Old and New Testament were composed and copied, how each writing was collected and the stories of the people who gave their lives in making the bible available to everyone. Stone divides The Story of the Bible into nine chapters. With a conversational tone throughout, some of the topics covered are of the beginnings of the bible, the people who are found within the book, early years of the church, middle ages, along with many more.The above mentioned would be enough to make this a great book, but the author takes things one step further by providing over 23 life-sized, removable reproductions of pages from the world's most important Bibles, including samples from The Book of Kells, Codex Sinaiticus, the Gutenberg Bible, along with portions of a Dead Sea Scrolls manuscript."
I'd certainly encourage those of you with teens or preteens to consider this as a coffee table book.  Sometimes just holding a piece of ancient paper, albeit in the form of a reproduction, can help kids make a connection to the past.
But back to Mr. Stone's question, a great topic for those of you looking for Easter presents for your younger set.
First of all, Larry, I'm going to say three cheers to you and your family for reading your kids any Bible stories—especially difficult ones!  And I'm going to say something that might be a little counterintuitive.  Despite the fact that I do have a couple of suggestions for you, I really can't overstate how thankful I am that you're willing to read a little over your grandson's head, and then reinterpret for him.  Pretty much at any age, I'd suggest reading straight from the Bible with him occasionally.
By reading a little above his level, you'll enrich his vocabulary and, by retelling the verses yourself, you'll be able to give it some local color—that is, use his everyday language and experiences.  But most of all, you will have the opportunity to bring out not just what some author finds interesting about a Bible text, but what's meaningful for you.  You can tell him how you've struggled to trust God like the Israelites, or how you've rebelled like Jonah—and in doing so, you can ask him to think about how he's done the same.  That sort of give and take is absolutely priceless for building memories and spiritual acumen.
Of course, you're only a grandparent.  You can't set him on a Bible reading schedule!  Even if you do find time for more meaty Bible readings together, a few good story Bibles can go a long way.  In fact, books that do that job of interpreting Scripture on a child's level, on some days, are more to be desired than find gold.
Here are a few I think would be worth considering:
1.      The Big Picture Story Bible by David R. Helm.  Although the pictures are a little more cartoonish than I would prefer, I think it is a very good choice for your 4 year old grandson.  The text, though simple and child-friendly, manages to present the big picture of redemptive history, rather than the disconnected vignettes of most story Bibles.  Easy to read, and conceptually just right for ages 4-8 (and younger, in my opinion).
2.      The New Bible in Pictures for Little Eyes by Kenneth N. Taylor.  This story Bible is a classic.  It's text was composed at least 20-30 years ago, and if you want a story Bible with text that has been vetted by parents and kids, I don't think you'll do better than this one.  The illustrations have been redone and are a little more historically accurate than most early Bibles, though they are still quite cartoonish.  For an even smaller and shorter version, you might try My First Bible in Pictures which uses some of Taylor's text but in a smaller format; comes in blue, pink, or red.
For your six-year-old, three books come to mind:
1.      The Jesus Story Bible by Sally Lloyd Jones.  This story Bible is heads and tails above most in that it presents "a whisper of Jesus on every page."  Probably my only gripe with the book is actually part of why I like it: Ms. Lloyd Jones offers a strong, kid-friendly narrative voice which will make the text understandable and even enjoyable to kids today.  Yet in doing so, she takes the reader a little farther from the actual Bible text.  Read in conjunction with other story Bibles and the real Bible itself, this shouldn't be a problem.  Some parents won't like the illustrations which are also very stylized, but I think this book is particularly suited to being given beyond white evangelical culture for that very reason: the characters don't look so terribly European.
2.     One Wintry Night by Ruth Graham.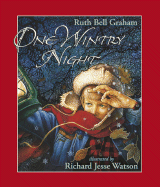 Ok, so this isn't a story Bible, but Ms. Graham has penned a short overview of the Bible that is very entertaining.  A young Appalachian boy becomes trapped in a friends' mountain home during a Christmas snowstorm; while he and a motherly figure must wait out the storm, she introduces him to the meaning of Christmas and all of redemptive history.  It's a good story, but the illustrations are what makes this book an extraordinary treasure to me.  They are filled with historical information about Biblical characters, and yet not stuffy at all–in fact they are bursting with color and life and patterns on every page.  And I think for that reason, you'll find the book particularly suited to children of any color or culture.
3.  The Prince's Poison Cup by R.C Sproul, which I reviewed earlier in the week, is a great way to bring home the emotional weight of the Bible's story–especially for boys.  You can read more about why I recommend it here.
So, Mr. Stone, I hope you'll find some of these books helpful in your laudable goal of developing a love for the Scriptures in your grandkids!  And maybe our readers will be able to give you a few more tips or book suggestions as well?
Be sure to check out our interview with Kevin Twit on the value of The Jesus Story Bible, or read about the books Larry mentioned in his quote in $20 Bookshelf Challenge: Best Books for Beginners.  Further Redeemed Reading: Easter Gifts 101: The Prince's Poison Cup by R. C. Sproul and Easter Gifts 101: Last Minute Warning!

Reading Ahead for You
Reviews and Resources Weekly in Your Inbox